LANGKAWI 27 January 2022: Are you ready to start the year right and win some exciting prizes? Langkawi Development Authority (LADA) presents an exciting competition for travellers who have recently visited the "99 Magical Islands in the Sun."
What's not to love about this perfect tropical holiday spot? Shimmering waters, amazing beaches, mysterious forests, exotic flavours and super-friendly locals, it is truly Langkawi Best Wey! And now, even the memories you create on this beautiful island can help you win big too.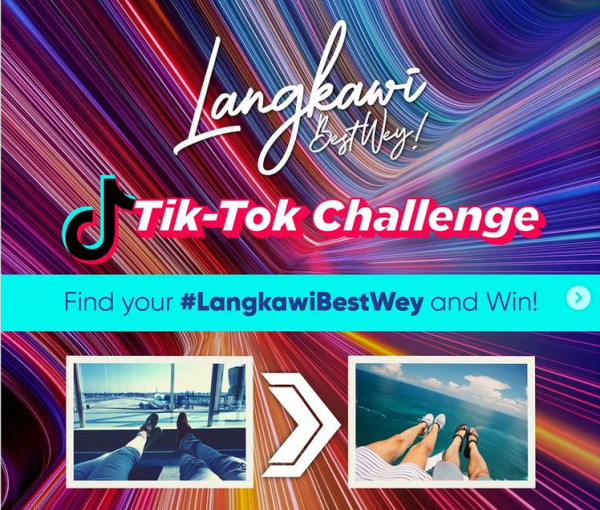 Travellers who have visited Langkawi since 15 December 2022 are challenged to upload a TikTok video encapsulating their best experience in Langkawi with the hashtag #LangkawiBestWey.
Users are required to highlight two different aspects of Langkawi in this video (For example, choose two themes from the local food scene, pristine beaches, hidden cafes, and adventure activities). The video can be uploaded on any social media page, including Facebook, Instagram or TikTok.
To be eligible, contestants must tag the relevant Naturally Langkawi page. Following the closing date for the competition, 15 February 2023, 20 winners will be selected to win a range of cool prizes that will leave you with the urge to return to this beautiful island once more.
Regarding this limited-time-only contest, LADA's chief executive officer
Nasaruddin bin Abdul Muttalib said: "We appreciate all the tourists for visiting our adored island and choosing Langkawi as their holiday destination of choice. To thank them, we have decided to run this contest and give these tourists an opportunity to use the memories they have created on the island to win big."
He added, "In this digital age, travellers love to document their travels through smartphones. We have decided to leverage this and award those most creative with their captures to keep up with the modern-day trends. We will filter through every submission and ensure that we reward those who can capture Langkawi in the most beautiful way possible."
Guidelines
Langkawi is loaded with breathtaking experiences, and there is just so much to do. Given that, travellers will have opportunities to create exciting videos of their travels. Winners will be chosen based on their skills and creativity in shooting, editing and finessing the video. Judging will be entirely based on the creativity and quality of the video, with participants allowed to submit as many videos as they like. However, all videos submitted must be tasteful and not offend any religious, racial, national, ethical, or moral standards and sensibilities. Offensive language and nudity are also not permitted. Any content featuring any of the above will be automatically rejected.
Prizes for the winners
The grand prize winner will walk away with two Sky Cab Langkawi tickets, a three-day/two-night stay at Tanjung Rhu Resort inclusive of breakfast, two tickets to the Langkawi Sunset Party Cruise, two tickets to Splash Out Langkawi as well as a Langkawi 99 Magical Islands Jacket and LangkawiBestWey T-Shirt. Twenty runners-up will receive a variety of other amazing prizes.
For more information regarding the prizes, you may click on this link.
For tourists seeking the ultimate tropical escape, Langkawi has to be the standout option, and even more so now with the #LangkawiBestWey competition. Already an enticing holiday destination, Langkawi's allure just got that little bit bigger with this contest. What are you waiting for? TikTok, time is running out.
For more information on LADA, please visit https://www.lada.gov.my/en/ or https://naturallylangkawi.my
(Your Stories: LADA)