KUCHING, 30 January 2023: Travel is back in Southeast Asia, and more direct flights are connecting Singapore, Kuala Lumpur and Bangkok to Sarawak for families planning a vacation.
The latest count names seven airlines flying direct services from capital cities in Southeast Asia to Kuching in Sarawak; AirAsia, Bek Air, Firefly, Malaysia Airlines, Malindo Airways, Royal Brunei Airlines and Scoot.
Here are 10 things to do in Sarawak, starting with Kuching's famous street food that will bolster energy levels to explore the state's national parks, natural attractions and adventure options.
EAT LAKSA SARAWAK & KOLO MEE
The two favourite signature breakfast meals of Kuching are, without a doubt, Laksa Sarawak and Kolok Mee.
A visitor to Sarawak cannot leave without having a taste of these two iconic dishes.
Ranked the No. 1 Food in Asia by TasteAtlas and dubbed as 'The Breakfast of the Gods' by the late Anthony Bourdain, Sarawak Laksa consists of vermicelli rice noodles soaked in a spicy-sour shrimp-based broth made from over 30 different herbs and spices, thickened with coconut milk, topped with crunchy beansprouts, boiled prawns, shredded chicken, thin slices of omelette, a sprinkling of fresh coriander, served with spicy sambal made from pounded chillies and belacan (shrimp paste) and a freshly cut calamansi (golden lime).
Kolok Mee is a bowl of fresh noodles cooked perfectly al-dente, swirled vigorously in lard and vinegar until each strand is evenly coated, topped with slices of char siew (barbequed pork) and minced pork, dressed with chopped spring onions and sliced chillies. Kolok Mee can also be enriched with fishballs, wontons and vegetables such as choy sum. Halal versions of Kolok Mee can be found at Muslim outlets.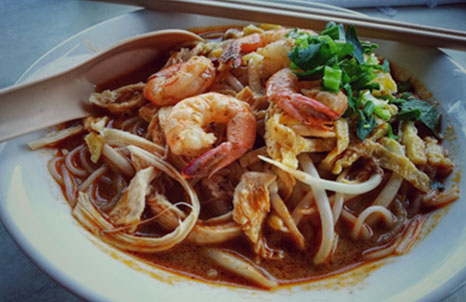 FEED THE ORANGUTANS AT SEMENGGOH
Semenggoh Wildlife Rehabilitation Centre, located 20 kilometres south of Kuching, is a renowned sanctuary for the conservation of the orangutans in their natural habitat. For over 20 years, the wardens at Semenggoh Nature Reserve have been training young orangutans, who had been orphaned or rescued from captivity how to survive in the wild.
They spend most of their time roaming the forest but frequently come back to the Centre for a free meal. During feeding time, visitors will gain the golden opportunity to interact with the orangutans as they will swing down from trees for a free handout of fruits.
KAYAKING AT SEMADANG RIVER
Adrenaline junkies will love the wide variety of all-inclusive day-trip adventure tours along Semadang River, ranging from river kayaking, bamboo-rafting, caving and jungle trekking. The Semadang Kayaking experience includes all kayaking, rafting and caving activities. Also, after a massive workout from kayaking, visitor can further enrich their local culinary experience with some traditional, home-cooked food using locally-sourced ingredients by the river.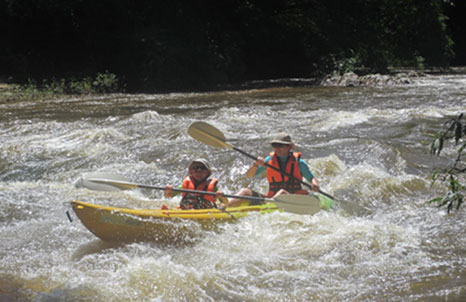 EAT GULA APONG ICE CREAM
Good news for dessert lovers – you will love Sarawak's Gula Apong Ice-cream. Gula Apong is a type of palm sugar made from nipah palm, which grows abundantly in the coastal lowlands in Sarawak.
It has a subtly different, nuttier flavour compared to the gula melaka in West Malaysia.
Vanilla ice cream really tastes best when gula apong syrup is sprayed over it, or you can also enjoy gula apong flavoured ice cream.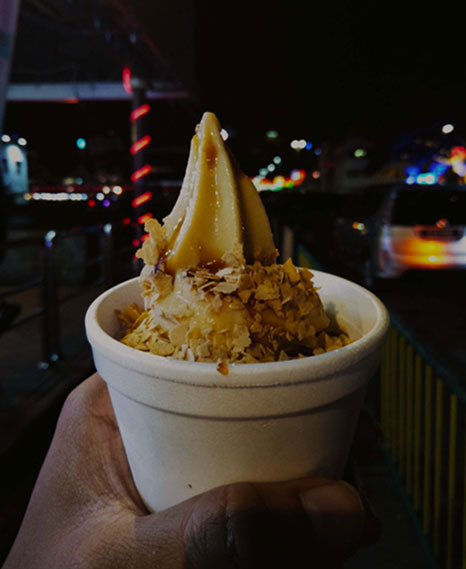 EXPLORE MULU NATIONAL PARK
A UNESCO World Heritage Site, a trip to Mulu National Park is a must when you are in Sarawak. Located in Miri, Mulu is well known for its rich biodiversity and its karst features. The varied topography of Gunung Mulu National Park includes swampy lowland rainforests, towering limestone cliffs, and lofty sandstone mountains – these provide a great diversity of habitats and are one of the reasons behind the astounding biodiversity of this reserve.
Mulu's most remarkable feature is the world's finest karst collapse and the 50metre-tall razor-sharp limestone Pinnacles on the northern end of Gunung Api.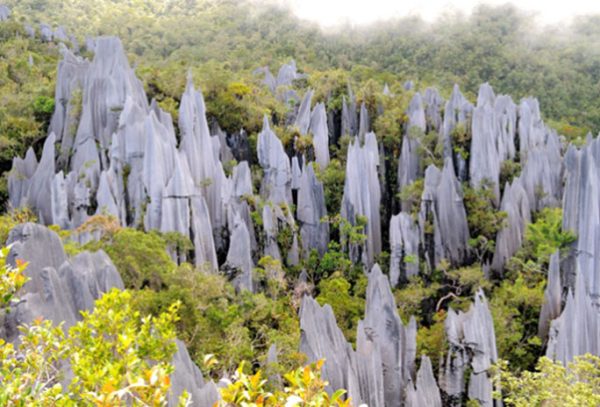 DEEP SEA DIVING AT MIRI-SIBUTI CORAL REEFS NATIONAL PARK
The Miri-Sibuti Coral Reefs National Park is a protected area, and the thriving marine life is a testament to this. There are over 40 dive sites throughout the park suitable for divers of all levels. Among the popular dive spots in the national park include Belais Reef, Anemone Garden and the exciting Barracuda Point, where a school of the large predator can be seen swirling in a never-ending circle.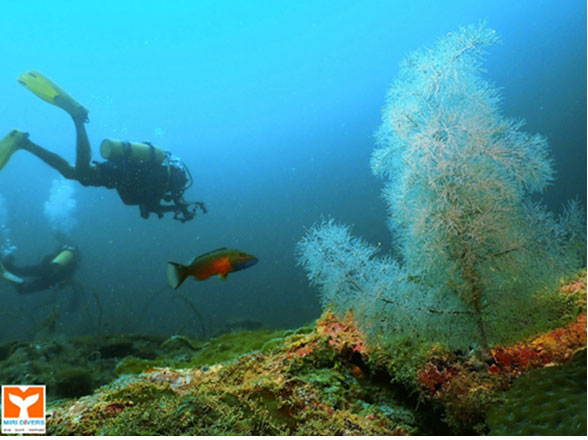 TREKKING AT GUNUNG GADING NATIONAL PARK
To all hikers, nature, wildlife and jungle enthusiasts – are you looking for a challenging jungle trekking adventure in a tranquil, lush, natural and timeless environment? Then Gunung Gading National Park is the place to be. Gunung Gading is home to the rare Rafflesia, which is also known as the corpse flower because of the stench it gives off while it is blooming. There are a number of treks at the park, and not all of them will feature the Rafflesia, so be sure to tell your guide beforehand if you want to see it in all its glory, and he will take you where you will be able to spot it. Some jungle trails here will also lead you to scenic waterfalls and jungle streams. Have a refreshing swim in these ice-cool waters before you leave.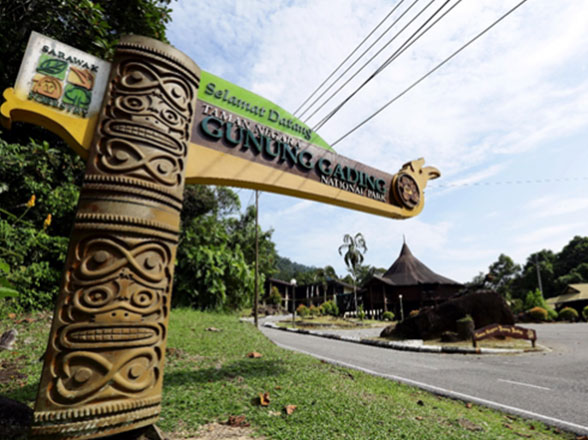 MORNING BIRDWATCHING AT KUBAH NATIONAL PARK
Kubah National Park is situated on a sandstone plateau, mostly covered by mixed dipterocarp forest, which is interspersed with patches of scrub and an unusually rich area of Kerangas forest, is the home of mammals, birds & many species of reptiles and amphibians. Upon arrival, bird watchers can aim to spot some endemic species like Blue-banded pitta, Bornean blue-flycatcher, Yellow-rumped flowerpecker, Bornean Black-magpie, Chestnut-crested yuhina, Dusky munia & etc.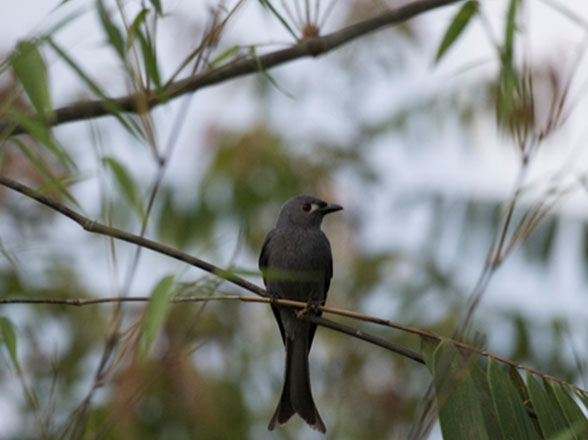 EXPERIENCE THE SERENITY OF BARIO
Lying at an altitude of about 3,500 feet above sea level in the northeastern corner of Sarawak is the famous Bario Highlands, a Kelabit territory, one of the minority Orang Ulu tribes of Sarawak.
Bario means 'Wind' in Kelabit language. It is the gateway to the Kelabit highlands, with about thirteen villages located in & around Bario area, with Kampung Bario Asal being the first.
This is a must-visit longhouse where one can see the ancient timbers of the unique kitchen darkened by the constant smoke of generations of cooking fires.
Bario's most enchanting attraction is its' calmness, the serenity and the natural splendour
of its surroundings against a breathtakingly beautiful backdrop of paddy fields at the base of mist-covered hills standing tall as far as the eye.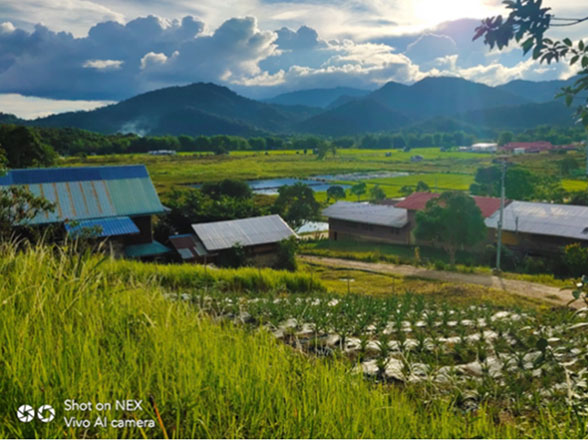 VISIT SIBU'S TUA PEK KONG
The Eng Ann Tua Peng Kong was founded more than 100 years ago, making it the oldest and best-preserved Chinese Temple in Sibu. From the original wooden structure, it was rebuilt in 1897 with an adjacent 7-storey Goddes of Mercy (Kuan Yin) Pagoda, considered one of the most perfectly proportioned pagodas outside of Mainland China. Tourists not only visit the temple for religious purposes but also climb its steps to enjoy the magnificent sunset view overlooking the Rajang Rivers and the Sibu Waterfront.
For more information visit: www.sarawaktourism.com.
(Your Stories: Sarawak Tourism Board)