DUBAI, UAE, 18 January 2022: Emirates will offer passengers an opportunity to 'fly better' with new high-speed, inflight broadband powered by Inmarsat's GX Aviation, onboard 50 new Airbus A350 aircraft – scheduled to enter service in 2024.
The new agreement will significantly improve the passenger experience with enhanced connectivity and greater global coverage, even on flights over the Arctic.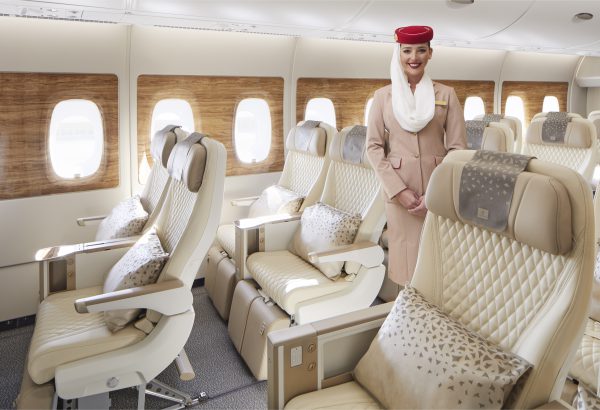 The Airbus A350s will be the first Emirates aircraft to take advantage of Inmarsat's Global Xpress (GX) satellite network, which powers the world's first and only globally available broadband network, ensuring passengers can enjoy uninterrupted global connectivity, no matter their destination, including the North Pole. The advanced high-speed capabilities of the broadband will enable Emirates passengers to stay connected with family and friends, browse the internet, and enjoy social media, all from the comfort of their seats.
Currently, the GX network that will power the Emirates inflight broadband consists of five Ka-band satellites and will be further enhanced by adding seven more satellite payloads as part of Inmarsat's fully funded technology roadmap. This includes two Inmarsat-6s, the most sophisticated commercial communications satellites ever built, both of which are scheduled to enter service in 2023. These will be followed by three additional satellites in geostationary orbit, adding speed, capacity, and resilience. Two will be positioned in a highly elliptical orbit to enable the world's only commercial mobile broadband service for aircraft flying in higher elevations and across the Arctic, such as routes between the Middle East and North America.
Emirates' chief operating officer Adel al Redha said: "Delivering a world-class onboard experience has always been paramount to Emirates, and we understand the importance of being connected during flights. Over the years, we have worked closely with Inmarsat and our supplier partners to ensure all our aircraft offer Wi-Fi connectivity. We look forward to finding ways and options to improve the connectivity onboard our aircraft by utilising GX Aviation for our Airbus A350 fleet. The advanced capabilities introduced by the forthcoming satellites are particularly important, as this will boost capacity across our global network, including aircraft flying over the Arctic for routes between the Middle East and America."
Emirates has also introduced connectivity enhancements for Skywards members – including complimentary internet access throughout the flight for all Skywards Gold or Silver members travelling in Business Class, in addition to First Class and Platinum members travelling in any cabin class.
The plan for high-speed inflight broadband onboard A350s is the latest addition to Emirates' multi-billion-dollar investment into its onboard product and passenger experience, which also includes the largest known fleet retrofit project of 120 aircraft, extensive investment into menu development and food and beverage experiences, the planned introduction of next-generation inflight entertainment systems on incoming aircraft, and a hospitality training programme designed by the world's most renowned hotel school – Ecole hôtelière de Lausanne.
For more information visit www.emirates.com.
(Your Stories: Emirates)