SINGAPORE, 2 October 2023: The 45th session of the World Heritage Committee concluded last week in Riyadh, Saudi Arabia, inscribing 42 new sites and approving the extension of five sites on UNESCO's World Heritage List.
Of the 42 new sites, 33 are cultural and nine are natural. According to the UNESCO media statement, the new sites will benefit from the highest level of heritage protection. They will also have access to new opportunities for technical and financial assistance from UNESCO. There are 1,199 UNESCO World Heritage sites in 168 countries. During the two weeks of deliberation, the World Heritage Committee also approved the extension of five sites and examined the state of conservation of 263 sites already inscribed.
World Heritage in Danger
During this session, two Ukrainian sites were inscribed on the List of World Heritage in Danger due to threats linked to shelling. "Saint Sophia's Cathedral and complex of monastic and Lavra buildings in Kyiv-Pechersk" and "the ensemble of the historic centre in Lviv" join the "Historic Centre of Odesa", which was inscribed on the list in January 2023 for the same reason.
Nine sites honoured in Asia
Cambodia – Koh Ker: Archaeological Site of Ancient Lingapura or Chok Gargyar
The archaeological site of Koh Ker is a sacred urban ensemble of numerous temples and sanctuaries, including sculptures, inscriptions, wall paintings, and archaeological remains. Constructed over a twenty-three-year period, it was one of two rival Khmer Empire capitals – the other being Angkor – and was the sole capital from 928 to 944 CE. Established by King Jayavarman IV, his sacred city was believed to be laid out based on ancient Indian religious concepts of the universe. The new city demonstrated unconventional city planning, artistic expression and construction technology, especially using very large monolithic stone blocks.
https://en.wikivoyage.org/wiki/Koh_Ker
Google Maps
https://www.google.com/maps/search/koh+ker+location/@13.7903048,104.4943592,13z?entry=ttu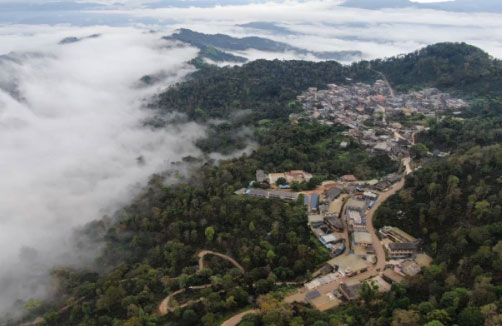 China – Cultural Landscape of Old Tea Forests of the Jingmai Mountain in Pu'er:
Located on Jingmai Mountain in southwestern China, this cultural landscape was developed over a thousand years by the Blang and Dai peoples following practices that began in the 10th century. The property is a tea production area comprised of traditional villages within old tea groves surrounded by forests and tea plantations. The traditional understorey cultivation of old tea trees is a method that responds to the specific conditions of the mountain's ecosystem and subtropical monsoon climate, combined with a governance system maintained by the local Indigenous communities.
Location: Located in Huimin Township, Lancang Lahu Autonomous County, Pu'er. Yunnan, China. Admission: free
Google Maps
https://www.google.com/maps/search/Jingmai+Mountain+/@22.2694663,99.9465735,12z?entry=ttu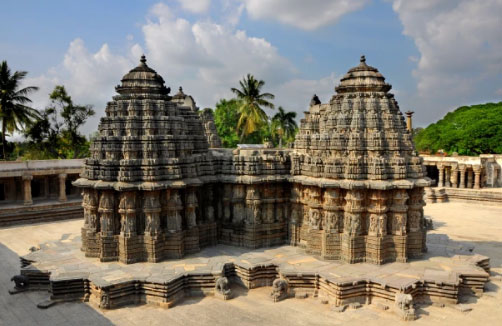 India – Sacred Ensembles of the Hoysalas:
This serial property encompasses the three most representative examples of Hoysala-style temple complexes in southern India, dating from the 12th to 13th centuries. The Hoysala style was created through a careful selection of contemporary temple features and those from the past to create a different identity from neighbouring kingdoms.
The Sacred Ensembles of the Hoysalas are located in three places in two districts of Karnataka, (Wikipedia).
Google Maps
https://www.google.com/maps/place/Hoysaleshwara+Temple/@13.212482,75.9914895,17z/data=!3m1!4b1!4m6!3m5!1s0x3bbacb88430d776f:0x72e5166c8fcba5e5!8m2!3d13.212482!4d75.9940698!16zL20vMGgyczgy?entry=ttu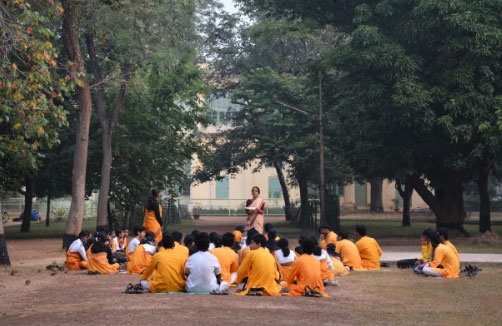 India – Santiniketan:
Established in rural West Bengal in 1901 by the renowned poet and philosopher Rabindranath Tagore, Santiniketan was a residential school and centre for art based on ancient Indian traditions and a vision of the unity of humanity transcending religious and cultural boundaries. A 'world university' was established at Santiniketan in 1921, recognising the unity of humanity or "Visva Bharati". Distinct from the prevailing British colonial architectural orientations of the early 20th century and of European modernism, Santiniketan represents approaches toward pan-Asian modernity, drawing on ancient, medieval and folk traditions from across the region.
Shantiniketan is a neighbourhood of Bolpur town in the Bolpur subdivision of Birbhum district in West Bengal, India, approximately 152 km north of Kolkata. Shantiniketan is situated at 23.68°N 87.68°E (Wikipedia)
Google Maps
https://www.google.com/maps/search/India+-+Santiniketan+unesco+world+heritage/@23.6783663,87.6609847,14z/data=!3m1!4b1?entry=ttu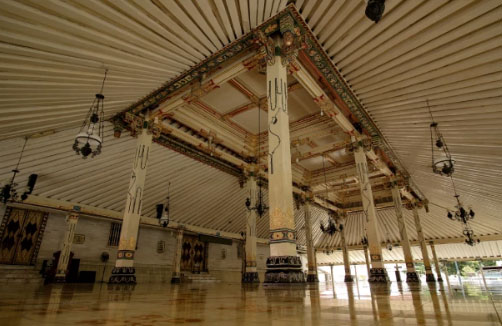 Indonesia – The Cosmological Axis of Yogyakarta and its Historic Landmarks:
The central axis of Yogyakarta was established in the 18th century by Sultan Mangkubumi and has continued from that time as a centre of government and Javanese cultural traditions. The six-kilometre north-south axis is positioned to link Mount Merapi and the Indian Ocean, with the Kraton (palace) at its centre and key cultural monuments lining the axis to the north and south that are connected through rituals. It embodies key beliefs about the cosmos in Javanese culture, including the marking of the cycles of life.
Google Maps
https://www.google.com/maps/place/The+Cosmological+Axis+of+Yogyakarta+Management+Unit/@-7.7979213,110.3639944,17z/data=!3m1!4b1!4m6!3m5!1s0x2e7a578877f127db:0x44bea5bc6625b058!8m2!3d-7.7979213!4d110.3665693!16s%2Fg%2F11sr_jqq5y?entry=ttu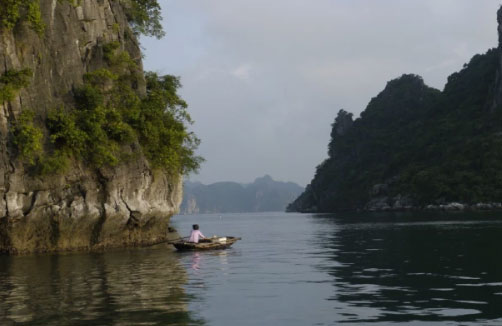 Vietnam – Halong Bay–Cat Ba Archipelago extension of "Halong Bay", first inscribed in 1994 and updated in 2000 and 2023):
In the Gulf of Tonkin, Halong Bay includes some 1,600 islands and islets, forming a spectacular seascape of limestone pillars. The extension of the property comprises a multitude of limestone islands and towering limestone pillars rising from the sea, with eroded notches, arches and caves creating a picturesque and beautiful landscape. Seven key ecosystem types are found here and the area is home to threatened endemic species such as the Cat Ba Langur (Trachypithecus poliocephalus), the Cat Ba Tiger Gecko (Goniurosaurus Catbaensis), and the Asian Small-clawed Otter (Aonyx cinerea).
Google Maps
https://www.google.com/maps/place/Cat+Ba+Archipelago/@20.7953637,106.8431795,11z/data=!3m1!4b1!4m6!3m5!1s0x314a434696fb12d3:0xf486763dd4c03f3b!8m2!3d20.7909692!4d106.9948945!16s%2Fm%2F0x2ybyf?entry=ttu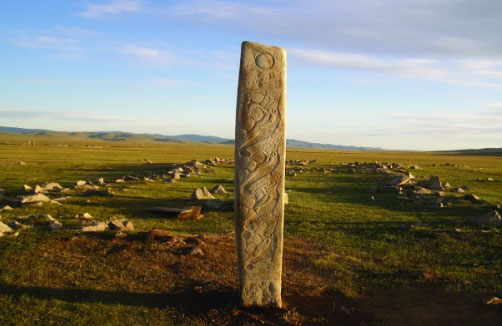 Mongolia – Deer Stone Monuments and Related Sites of Bronze Age:
Located on the slopes of the Khangai Ridge in central Mongolia, these deer stones were used for ceremonial and funerary practices. Dating from about 1200 to 600 BCE, they stand up to four metres tall and are set directly in the ground as single standing stones or in groups, and are almost always located in complexes that include large burial mounds called khirgisüürs and sacrificial altars. Covered with highly stylised or representational engravings of stags, deer stones are the most important surviving structures belonging to the culture of Eurasian Bronze Age nomads that evolved and then slowly disappeared between the 2nd and 1st millennia BCE.
For more background visit https://en.wikipedia.org/wiki/Deer_stone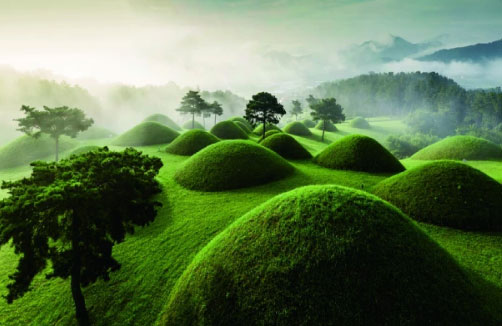 Republic of Korea – Gaya Tumuli:
This serial property includes archaeological cemetery sites with burial mounds attributed to the Gaya Confederacy, which developed in the southern part of the Korean Peninsula from the 1st to the 6th century CE. Through their geographical distribution and landscape characteristics, types of burials, and grave goods, the cemeteries attest to the distinctive Gaya political system in which polities existed as autonomous political equals while sharing cultural commonalities. The introduction of new forms of tombs and the intensification of the spatial hierarchy in the tumuli sites reflect the structural changes experienced by Gaya society during its history.
For more information visit
https://en.wikipedia.org/wiki/Gaya_Tumuli
Google Maps
https://www.google.com/maps/search/Republic+of+Korea+-+Gaya+Tumuli/@35.4084763,128.0733828,9z/data=!3m1!4b1?entry=ttu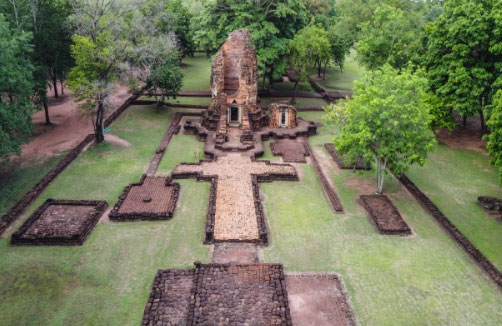 Thailand – The Ancient Town of Si Thep and its Associated Dvaravati Monuments:
This is a serial property of three component parts: a distinctive twin-town site featuring an Inner and Outer Town surrounded by moats, the massive Khao Klang Nok ancient monument, and the Khao Thamorrat Cave ancient monument. Together, these sites represent the architecture, artistic traditions and religious diversity of the Dvaravati Empire that thrived in Central Thailand from the 6th to the 10th centuries, demonstrating the influences from India. The local adaptation of these traditions resulted in a distinctive artistic tradition known as the Si Thep School of Art. Entrance fee is THB30 for Thais and THB100 for foreigners.
Location: Phetchabun province, Thailand
For more information visit
https://en.wikipedia.org/wiki/Si_Thep_Historical_Park
Google Map
Si Thep location Google Maps