SINGAPORE, 31 October 2023: Travellers from India, Saudi Arabia, Singapore, UAE, and the US are the most intent on 2024 travel, according to Skyscanner's latest report released on 26 October.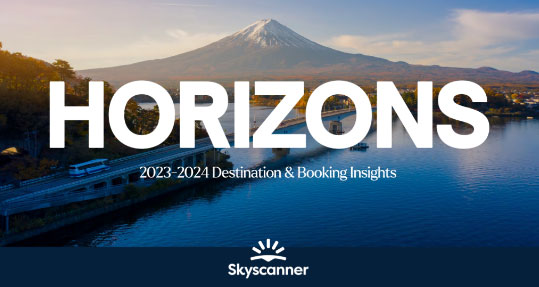 Exploring the latest trends in global travel, Skyscanner Horizons: 2023/4 Destination and Booking Insights combines a consumer survey and proprietary search and booking data to pinpoint what travellers are thinking about their plans for the next 12 months.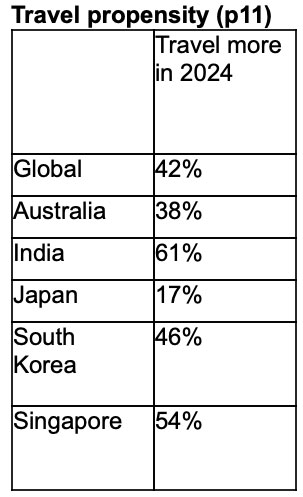 Survey data from 18,000 consumers in 15 markets reveals insights about key indicators such as travel propensity, spending, trip type, mobile device actions and the trip planning process, including the top sources of destination inspiration. Skyscanner search and booking data is overlayed to provide additional information about booking windows by long and short haul type, trending destinations, as well as snapshots of three important travel markets – India, Saudi Arabia and the US.
Skyscanner director of destination marketing, Mike Ferguson, commented: "2023 has been a seminal year in travel. In all regions, we see that travellers are highly engaged in the booking and planning process, searching for destination inspiration from various sources and planning long-haul trips further in advance. Destination choice is increasingly influenced by not only cultural factors but also the particular 'vibe' that aligns with individual preferences and motivations."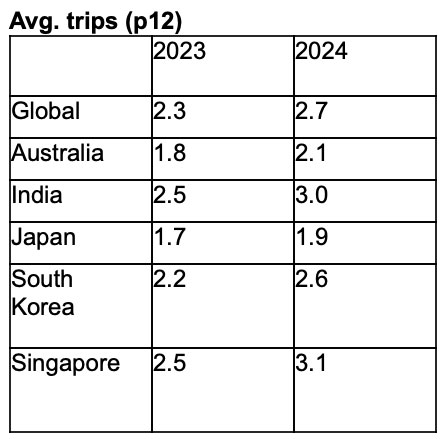 Key report findings
Travel planning
There is a positive outlook for 2024 regarding travel demand, with 42% of travellers planning to travel more and 39% planning to spend more.
Globally, the expected number of trips is set to increase to 2.7 from 2.3.
Insurance, seat selection, food, baggage, and lounge are the top flight ancillary requests. 20% of surveyed travellers were willing to upgrade to business or first class.
Airfares (30%) and hotel (21%) costs are the biggest decision-making factors in travel planning.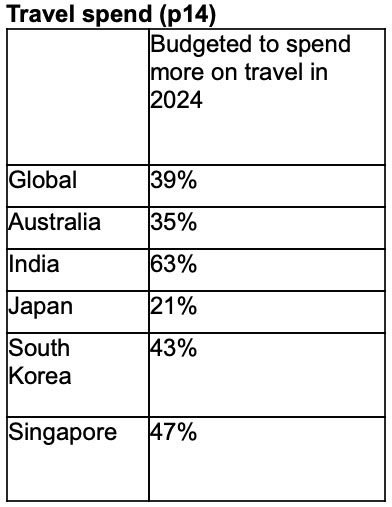 Travellers surveyed highly engaged on mobile devices in the travel planning and booking process, researching destinations (48%), comparing flight and hotel options (47%), and booking (40%), with a fifth (22%) having used an AI chatbot.
Destination planning
Cultural experiences top the 2024 agenda, with destination choice influenced not by just the weather (60%), food (58%) and culture (54%), but the overall 'vibe' (41%).
In-destination activities also play a role, in particular local cuisine (46%), sightseeing (42%) and beach (40%).
Globally, YouTube is the top source of travel inspiration, followed by word-of-mouth recommendations (35%) and Instagram (33%). However, there are big variations by market. Guidebooks (27%) and TikTok (21%) also feature.
Skyscanner has identified seven travel vibes and trip types that travellers are seeking in 2024: gig tripping, main character energy, budget bougie foodie, destination zzz, analogue adventurers, celebration vacationers and lux-for-less seekers.
Booking windows
EMEA travellers are booking flights further in advance, with most booking over 90 days ahead for short and long-haul trips.
AMER travellers are booking further ahead for the long haul, with 90+ day booking windows exceeding 2022 levels.
APAC travellers show greater volatility in short-haul booking windows compared to other regions. For long-haul flights, there's been a surge in last-minute bookings.
Trending destinations
EMEA travellers are seeking out smaller hidden gems away from larger cities. Top destinations include Rayong (Thailand), Ouarzazate (Morocco), Pristina (Kosovo), and Klagenfurt (Austria).
AMER travellers are looking towards Asia and island getaways. Top destinations include the Cayman Islands, French Polynesia, Osaka (Japan), and Tokyo (Japan).
Japanese destinations dominate the top 10 list for APAC travellers, with six cities featuring. This is evident in Japan's recent bounce back after lifting its Covid restrictions.
To view the report online or download a PDF copy, visit https://horizons.skyscanner.net/