SINGAPORE, 27 September 2023: Booking.com has appointed global star Eric Nam as the campaign ambassador for its 2023 Explorers campaign.
As travel continues to show no signs of abating in Asia, with nearly three quarters (73%) of Asia-Pacific travellers unwavering in their future travel plans even amidst global crises – this year's Explorers campaign seeks to empower every traveller by showing them the endless possibilities travel can bring, encouraging them to go forth to do just that.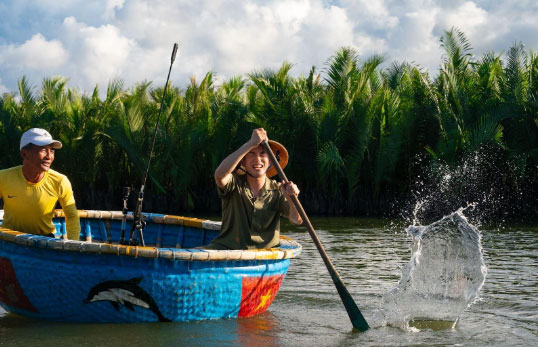 Inspired by Eric Nam's innate sense of curiosity, the 2023 Explorers campaign takes him to the heart of Asia as he embraces this very spirit – traversing the culturally rich cities of Hoi An, Vietnam and Bangkok, Thailand.
"Exploring the world is an incredibly important source of inspiration for my life and personal growth. Learning about other cultures fuels my creativity and curiosity and helps me take on fresh perspectives," said Nam. "I'm honoured to be a part of Booking.com's 2023 Explorers campaign, and I hope to inspire more people to fearlessly embrace different ways of seeing the world."
The collaboration with Eric Nam reinforces Booking.com's commitment to making it easier for everyone to experience the world, highlighting how effortless it is for them to embark on these journeys in their own way via the Booking.com platform. With a diverse range of offerings across accommodations, flights and rental cars, Booking.com ensures a seamless and connected travel experience, empowering travellers to curate their travels personally. As travellers reflect on their cherished memories and travel experiences alongside Eric Nam, the campaign hopes to encourage them to stay open to fresh and creative ways of travel in a world renewed to unlock their sense of adventure.
"The 2023 Explorers campaign is a timely reminder of the incomparable joy and empowerment that travel can bring us," said
Booking.com managing director for Asia Pacific Laura Houldsworth. "Our goal at Booking.com is to make it easier for travellers to shape their own extraordinary travel experiences – by offering personalisation and providing our users with the widest choice of accommodation options and unique experiences."
Booking.com claims "responsible travel is also at the forefront of the campaign, as it shows travellers how to access accommodation and experiences that encourage more sustainable choices, whilst reducing their environmental impact in the destinations they visit."