KOTA KINABALU, 7 September 2023: AirAsia celebrated yet another direct international flight into Kota Kinabalu this week from Hangzhou, China, marking the airline's first flight for this route after a three-year hiatus.
The renewed service offers weekly flights throughout September 2023 but should increase daily flights for the winter timetable from October 2023 to March 2024.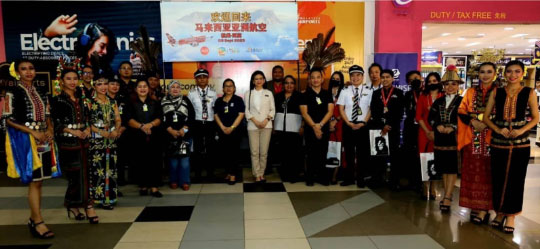 To celebrate the milestone, guests onboard flight AK1575 from Hangzhou to Kota Kinabalu were welcomed by AirAsia and Sabah Tourism Board CEO Pn Noredah Othmanmuch.
AirAsia Malaysia CEO Riad Asmat said: "We are delighted to resume the Kota Kinabalu to Hangzhou route, connecting these two remarkable cities once again. We've always strived to uphold our commitment to contribute to Sabah's booming tourism industry through our expanding network of flights in Asia and beyond, and this new route is a clear testament to that. Sabah and China are two of our key markets, and we're confident that our vast connectivity will enable affordable travel for our trusted guests as we continue to grow our fleet and network to cater to growing demand."
AirAsia is offering a 20%* discount on all seats and all flights to Chengdu, Beijing, Guangzhou, Shenzhen, Guilin, Shantou, Nanning, Taipei, Kaohsiung, Macau, Hong Kong for bookings made by 10 September 2023 with travel open between 11 October 2023 to 31 March 2024.
Kota Kinabalu is AirAsia's second-largest hub, connecting the city to nine domestic and 10 international destinations via 268 weekly frequencies and counting. AirAsia Malaysia (AK) currently flies 20 routes to and from Greater China with over 156 flights weekly from Kuala Lumpur to Guilin, Quanzhou, Guangzhou, Kunming, Shenzhen, Nanning, Shantou, Kaohsiung, Hong Kong and Macao; Kota Kinabalu to Guangzhou, Shenzhen, Wuhan, Beijing and Macao; Penang to Hong Kong and Johor Bahru to Guangzhou. AirAsia X Malaysia (D7) currently flies five routes to/from China, with over 30 flights weekly from Kuala Lumpur to Chengdu (Tianfu), Beijing (Daxing), Shanghai, Hangzhou and Taipei.