HONG KONG, 23 August 2023: Airport Authority Hong Kong (AAHK) released air traffic figures for Hong Kong International Airport for July 2023, recording a solid rise in passenger traffic.
HKIA handled over 3.8 million passengers in July, a 14.9% increase compared to June 2023. The daily average in July exceeded 120,000 passengers, recovering 60% of the pre-pandemic level.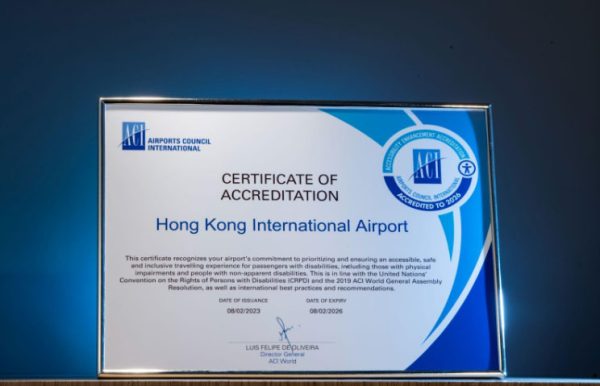 In July, flight movements and cargo throughput saw month-on-month increases of 7.4% and 1.7%, respectively, to 24,030 movements and 361,000 tonnes.
Compared with the same month in 2022, passenger volume increased eight-fold while flight movements doubled. All passenger segments grew significantly compared to July 2022 as passenger traffic steadily recovered. Mainland China and Japan recorded the most substantial increases in traffic to and from Southeast Asia.
Cargo throughput experienced a year-on-year increase of 3.8% in July. Exports contributed the most to the overall increase in cargo volume in July, rising by 12.6% compared to last year. Traffic to and from key trading regions in North America, the Middle East and Europe rose considerably during the month.
Over the first seven months of 2023, HKIA handled 20.4 million passengers, increasing more than 15 times from the low base recorded during the same period in 2022. The airport handled 142,840 flight movements, representing 94% year-on-year growth. Cargo volume declined by 4.2% year on year to 2.4 million tonnes.
On a 12-month rolling basis, passenger volume at HKIA increased 10 times year-on-year to 24.8 million, while flight movements rose by 44.6% to 207,925. Cargo throughput saw a decrease of 14% to 4.1 million tonnes.
Meanwhile, HKIA announced it recently achieved Level 3 accreditation, the highest rank attainable under the Accessibility Enhancement Accreditation Programme organised by Airports Council International (ACI). The Level 3 accreditation indicates the airport and its partners' commitment to improving accessibility by applying innovation and technology, digital accessibility, universal design principles and establishing an inclusive culture for all types of disabilities.
AAHK executive director of airport operations Steven Yiu said: "We are pleased to receive this accreditation from ACI, which recognises our tireless efforts to enhance HKIA's facilities and ensure that they cater to every airport user's need. We will continue to upgrade the facilities to create an accessible, safe and inclusive airport experience for all passengers worldwide."