HONG KONG, 21 August 2023: DidaTravel, a tech-driven global travel distribution company, reports international hotel bookings for the summer season (1 June to 31 August 31) have already surpassed 2019 levels by an impressive 93% hike compared to the same period in 2019. 
This booking surge signals DidaTravel's expansion and growth globally and the strong recovery of the wider hotel sector, including, most recently, the APAC region.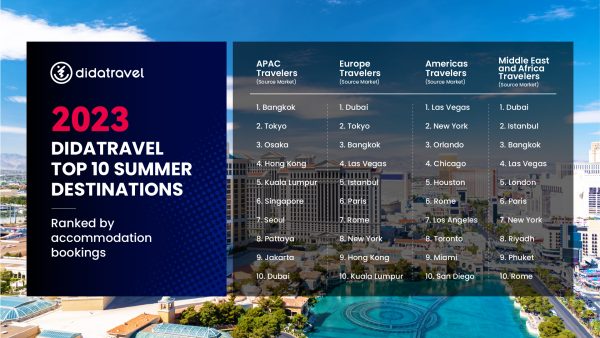 Summer bookings reach new heights
When looking at reservations made for August through the DidaTravel platform, they have skyrocketed by 214% year-on-year, indicating a strong rebound in travel demand.
Meanwhile, hotel bookings for European destinations witnessed a remarkable 123% increase in reservations year-on-year for the June, July and August arrival periods. Destinations in the APAC, Middle East & Africa, and the Americas have seen growth rates of 68%, 65%, and 16%, respectively, contributing to the global recovery.
Average daily accommodation rate (ADR) on the rise
As a global average, the ADR has increased by 35% year-on-year, surpassing 2019 levels by 7%.
However, APAC and the Americas are trailing just below 2019 levels, with ADR year-on-year increases of 55% and 14%, respectively.
Europe and the Middle East & Africa have exceeded 2019 levels, with ADR increases of 29% and 23% yearly, showcasing a strong recovery in these regions.
Extended Advance Booking Window
With the relaxation of travel restrictions in APAC, travellers are displaying increased confidence to book hotels further in advance – rising to an average of 23 days from just 10 during the same period last year and even surpassing the 21 days in 2019.
DidaTravel CEO Rikin Wu commented: "As the summer season progresses, the hospitality industry across APAC and worldwide has significantly recovered. We are excited to witness such incredible growth numbers compared to pre-pandemic. This is a testament to the success of Dida's international expansion strategy and the broader rebound in both short-haul and intercontinental travel this summer.
"With the increasing confidence of travellers and the relaxation of travel restrictions in APAC, we expect the positive trend in hotel bookings to continue.
*All figures quoted in this press release are based on DidaTravel's accommodation booking data for reservations made for the 2023 summer season of June, July and August."