PHNOM PENH, 22 August 2023: Cambodia's low-cost Lanmei Airlines has taken the unusual step of closing down its official website directing online bookers to an app branded Lantoncloud.com.
Registered in Cambobia, the Chinese-owned airline posted a notice on its Facebook page on 16 August advising customers that its "official website www,lanmeiairlines.com is no longer available" while inviting them to "enjoy a new experience booking Lanmei Airlines through the Lantoncloud.com App."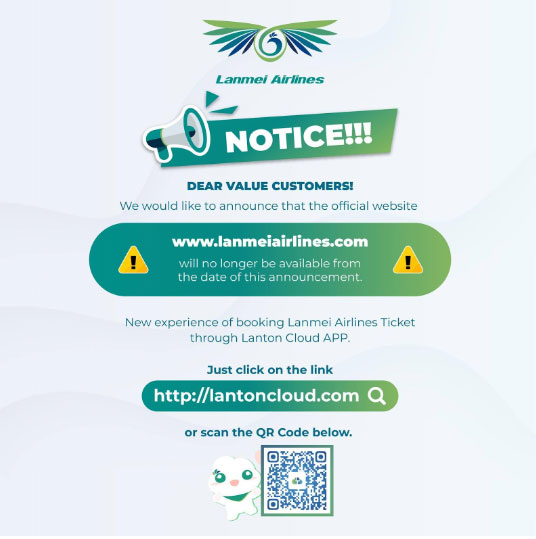 A Google search shows the website www.lanmeiairlines.com is still live and even has a notice advising visitors that it's the official website, possibly a reference to an independent website identified as Flylanmeiairline.com that adopts a similar ID that could infer it is somehow linked to the airline's booking business.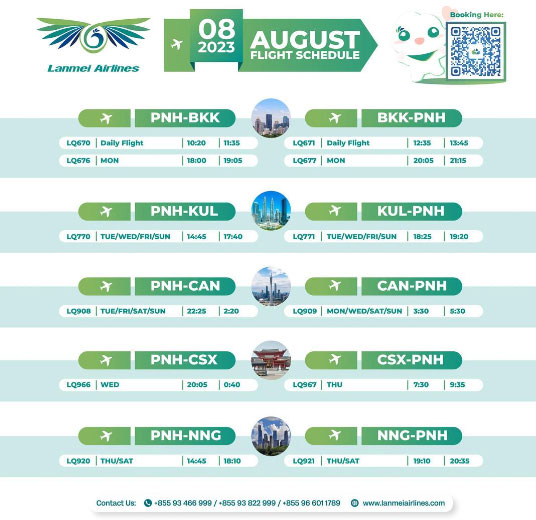 Despite Lanmei Airlines' announcement, the "official website" remains active, making it possible to search for flights. However, once you confirm interest by moving to the next step of the booking process, it switches to the Lantoncloud App.
Earlier this year, the airline did give some warning of its intent to ditch the official website for a new booking and sales strategy linked with Lantonclould.
On 2 June, Cambodia Hotel Association (CHA) and Lanmei Airlines announced they had signed a memorandum of understanding that centred on the Lantoncloud app developed by Lanton Cloud Service Technology Co Ltd, another member of the Lanmei Aviation Group headed by founder and owner Li Kun, according to the Phnom Penh Post report.
At the signing ceremony, CHA president Din Somethearith said the partnership would offer hoteliers a new way to connect with potential guests once the hotel-booking feature was launched on 29 June.
"As Lanmei Airlines expands and adds more flights, this will help our tourism industry rebound quickly by attracting more Chinese and regional visitors in particular," Somethearith said, inviting CHA members to join and potentially improve their occupancy rates Xinhua News Agency quoted the hotel association president.
Li Kun said the Lantoncloud platform was officially launched in 2022 and obtained the first e-commerce license in Cambodia, noting the Cambodia-based Lantoncloud app has ramped up expansion in the Association of Southeast Asian Nations (ASEAN) and China.
"The "Lantoncloud" e-commerce platform will propel cooperation in Cambodia's hotel, tourism, and supply chain fields."
With Lanmei Airlines migrating its bookings to the e-commerce platform, it will give travellers a one-stop online shop to buy travel and other consumer products on Lantoncloud, possibly in a similar fashion to what AirAsia has developed with its popular SuperApp.