SINGAPORE, 9 June 2023: Holland America Line's 2024-2025 cruise season is set to explore Asia with departures from Hong Kong, China; Yokohama (Tokyo), Japan; and Singapore to cities across 10 countries, with a strong focus on Japan.
HAL's cruise ship Noordam will sail nine different 14-day itineraries that travel around Cambodia, Indonesia, Japan, the Philippines, South Korea, Taiwan, Thailand and Vietnam.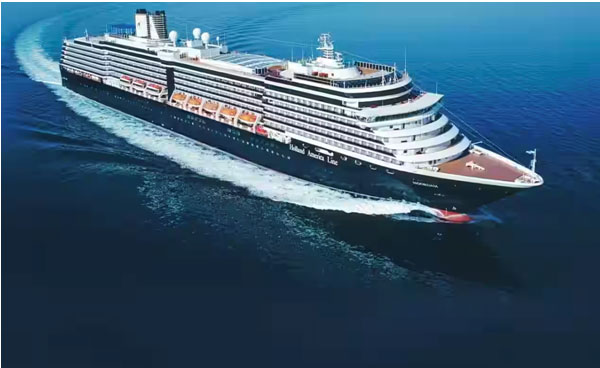 The cruises showcase the diversity of the countries while celebrating their distinct histories. Late departures and overnight ports allow extra time for sampling the region's nightlife, cuisine and culture.
"The demand for Asia remains strong as cruisers seek experiences to exotic and off-the-beaten-path locales that give them unique travel moments," said Holland America Line's chief commercial officer Beth Bodensteiner. "By offering three departure cities, we can diversify our itineraries and showcase an incredibly robust season. With 24 ports in Japan alone and two dozen more spread among several countries, our guests are in for an immersive Asia adventure."
The cruise ship Westerdam also heads to Asia on a new 53-day "Majestic Japan" Legendary Voyage roundtrip from Seattle. Travellers can visit Asia with a convenient North American flight, easy embarkation and jetlag-free journey spanning several time zones.
Two Legendary voyages
53 or 52-Day "Majestic Japan" aboard Westerdam will depart on 1 or 2 September 2024, either roundtrip to Seattle, Washington, or between Vancouver, Canada, and Seattle. Featuring 21 total ports, 13 calls throughout Japan and overnights at Yokohama (Tokyo) and Kobe, Japan, and Honolulu, Hawaii.
28-Day "Coral Triangle, Volcanoes and The Great Barrier Reef" departing 5 January 2025, roundtrip from Singapore aboard Noordam explores 10 ports in five countries, including Indonesia and the Philippines, with scenic cruising in the famed Great Barrier Reef, Torres Strait, and past the Kumba and Krakatau volcanoes.
Highlights of the 2024-2025 Asia Season
The cruises visit 49 ports in the region, including 24 in Japan. Noordam will explore Asia from September 2024 through April 2025. Overnight calls include Yokohama (Tokyo) and Kobe (Osaka); Laem Chabang (Bangkok), Thailand; and Danang, Vietnam.
Japan, Taiwan and the Philippines — 14 days between Yokohama and Singapore. Calls at Osaka (overnight), Naha and Ishigaki, Japan; Keelung (Taipei) and Kaohsiung, Taiwan; and Manila, Boracay and Puerto Princesa, Philippines.
Far East Discovery — 14 days between Hong Kong and Singapore. Calls at Halong Bay, Da Nang (Hue), Nha Trang and Phu My, Vietnam; Sihanoukville, Cambodia; and Laem Chabang (Bangkok, overnight) and Nathon (Koh Samui), Thailand.
Far East Discovery Holiday — 14 days roundtrip from Singapore. Thailand: Nathon (Samui) and Laem Chabang (Bangkok, overnight). Vietnam: Ho Chi Minh City, Nha Trang, Phu My, Halong Bay and Danang (overnight).
Indonesian Discovery — 14 days roundtrip from Singapore. All calls are in Indonesia, including Probolinggo and Semarang, Java; Celukan Bawang and Benoa (Denpasar), Bali; Komodo Island; Lembar, Lombok; and Tanjung Priok, Jakarta and scenic cruising by the active Krakatau Volcano.
Japan and Taiwan — 14 days roundtrip from Yokohama. Japan: Amami (Naze), Naha, Ishigaki Island, Nagasaki, Abruatsu, Kochi and Kobe. Taiwan: Hualien and Keelung (Taipei).
Japan and South Korea Discovery — 14 days roundtrip from Yokohama. Japan: Kobe (overnight), Kochi, Hiroshima, Nagasaki and Kagoshima. South Korea: Sokocho, Busan, Jeju City (Cheju) and Incheon (Seoul).
Beginning fares for 2024-25 Asia cruises range from USD1,699 to USD10,999 per person, double occupancy, depending on length. Taxes, fees and port expenses are additional.