BANGKOK, 1 June 2023: Updated forecasts for 39 Asia Pacific destinations, released by the Pacific Asia Travel Association (PATA) Wednesday, show a robust increase in aggregate international visitor arrivals (IVAs) under each of three scenarios in 2023, with strong annual growth continuing to the end of 2025.
Sponsored by Visa and with data and insights from Euromonitor International, this suite of reports builds on the current forecasts by delving deeper into the changing dynamics of travel and tourism into and across the Asia Pacific region at the single destination level facilitating the development of appropriate strategies over the next three years.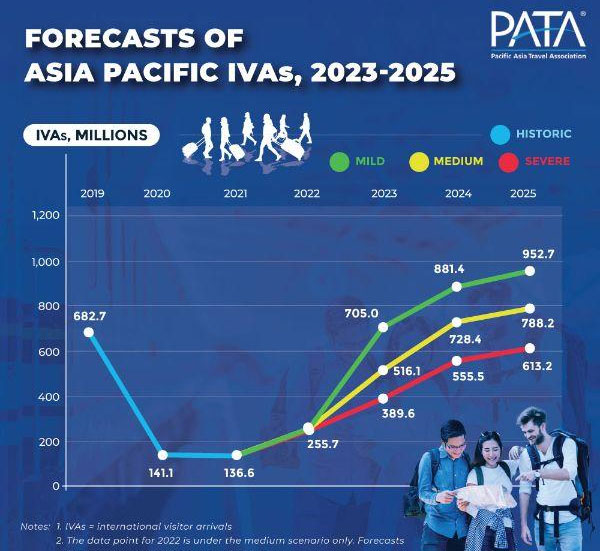 Predicted international arrivals in 2023 range from 705 million under the mild scenario to 516 million under the medium scenario, and almost 390 million under the severe scenario, equating to visitor numbers in 2023 that exceed that of pre-pandemic 2019 by 3.3% under the mild scenario, but still nearly 25% short of it under the medium scenario, and some 43% behind it under the severe scenario.
By the end of 2024, the 2019 benchmark level of international visitor arrivals (IVAs) will be exceeded even further under the mild scenario and by 6.7% under the medium scenario, with both positions increasing in strength to 2025. Under the severe scenario, however, IVAs in 2025 is still predicted to fall short of the 2019 level by some 10%.
In this just-released series of the 'Asia Pacific Destination Forecasts 2023-2025', PATA covers each of 39 destinations in much greater detail, focusing on source markets and air capacity changes in each case. One source market of particular interest, of course, is mainland China. These most recent forecasts indicate strong annual growth rates are expected in 2023 under each of the three scenarios but not passing the 2019 volumes until 2024 under the mild and medium scenarios.
Despite strong annual increases in arrivals from mainland China to Asia Pacific destinations, under the severe scenario, that number is still expected to lag the 2019 peak by around 6% by the end of 2025.
Pacific Asia Travel Association chair Peter Semone points out: "While these forecasts are extremely encouraging, hurdles remain, and the travel and tourism sector will require ongoing vigilance and operational flexibility as these issues present themselves over the coming years. Even though Covid-19 outbreaks are no longer at the global pandemic stage, for example, it has not disappeared entirely, and we must come to grips with living with it for some time."
He adds: "In addition, the conflict in Ukraine, a softening global economic outlook with rising inflation and the increased costs of international travel will all have to be dealt with in ways that satisfy the increasingly diverse demands of the traveller of both today and tomorrow."
Visa head of cross-border & sales excellence, Asia Pacific David Fowler said: "Many headwinds lie ahead as traveller habits and preferences have changed substantially in a post-pandemic and hyper-digitalised world. Building data capabilities will continue to be a key investment area for the travel ecosystem as it navigates the shifts in travel patterns through data insights and, in turn, respond with data-backed customer engagement strategies."
The PATA Asia Pacific Destination Forecasts 2023-2025 are now available on the PATA website at www.PATA.org/catalog.