LANGKAWI, 1 June 2023: Langkawi Development Authority (LADA) led a team of specialist water sports providers to present the island's marine attractions and leisure activities at the Malaysia International Dive Expo held in Kuala Lumpur last week.
The show, hosted at the city's premier venue, the Malaysia International Trade and Exhibition Centre, attracted more than 70 specialised dive companies and government agencies representing state tourism activities. Over the three days, 26 to 28 May, more than 15,000 travel consumers visited the event.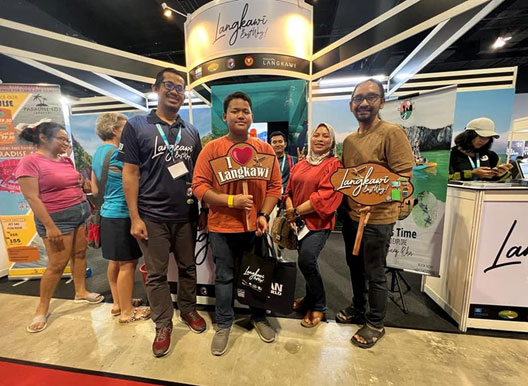 LADA recruited a team of representatives from the island dive community and providers of other sea-based tourism products. At the close of the event, the government agency reported companies participating at the Langkawi pavilion generated an estimated MYR74,847.00 in sales over the three days. LADA said it was the first time the island had fielded a team and presented its dive packages at the annual show.
During the expo, His Majesty the Sultan of Terengganu Sultan Mizan Zainal Abidin and his son visited the LADA booth at MIDE 2023.
Langkawi joins Tioman, Perhentian, and Sabah as a top dive destination making an impact with both dive tour operators in the domestic market and dive enthusiasts who book scuba diving activities directly through online channels and social media.
For more information: Langkawi
(Source: LADA)