DUBAI UAE, 31 May 2023: The Emirates Group is embarking on a futuristic, immersive digital journey to transform its employee experiences – a first for the industry – by collaborating with Amazon Web Services (AWS).
Both organisations have agreed to develop an immersive Extended Reality (iXR) platform and capability for the Emirates Group's cabin crew, new joiners, and the wider industry partner community. 3D virtual hubs, virtual training, gamified environments, simulated experiences – all this and infinitely more are in the offing as the Group adds ground-breaking features and technology to the platform.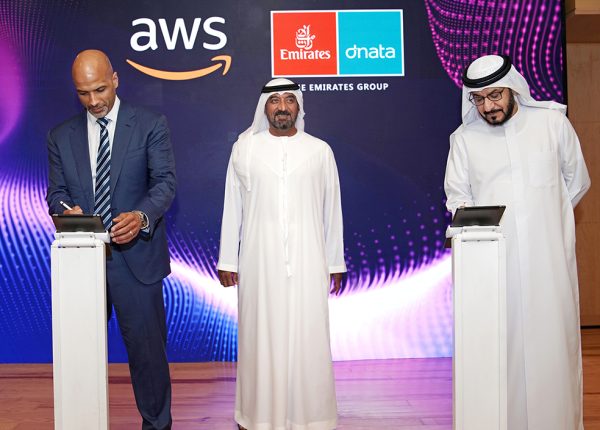 iXR, powered by AWS spatial computing and artificial intelligence, will deliver technical capabilities with photorealistic experiences. iXR experiences will be available across next-gen wearables and hand-held devices, including tablets and mobiles, with a consistent, high-fidelity experience streamed from the cloud.
In the first phase, iXR will have three distinct capabilities – a collaborative hub and social space, cabin crew training, and employee onboarding. An Emirates Virtual Hub will welcome employees to engaging and interactive brand experiences. iXR will introduce an unparalleled 3D interactive experience to the airline's award-winning cabin crew by leveraging advanced technology to create a truly immersive environment. Here, the crew will be transported into a meticulously constructed digital universe with virtual classrooms, engage with and learn from seasoned facilitators and peers, and navigate the intricate interiors of the airline's flagship A380s and Boeing 777s. The environment will feature cabin service trainers, photorealistic avatars, and spatial audio for an authentic sensory experience that enhances Emirates' hospitality ethos.
The hyperreal virtual world will enable the Emirates Group's recruits to quickly and visually learn more about the organisation and its extensive business, people and culture, roles, and living in Dubai. Embedded support services will create a seamless onboarding experience for successful candidates.
Emirates' Chief Operating Officer Adel Al Redha said: "The Emirates Group is synonymous with innovation and for always setting the bar high in the aviation industry. We aim to build a meaningful, practical, rewarding XR capability that utilises AI's evolution.
"We are using scalable XR capability that spans the breadth of our Group's brands and businesses. In the first phase, iXR will help cabin crew interact and familiarise themselves with the platform in an interactive, high-fidelity 3D environment which they can explore at their convenience, leading to greater knowledge transfer and employee satisfaction. During this phase, we will develop our employee experience using iXR to seamlessly assimilate our people within the Group's business, community and culture.
"iXR, which is on track for launch later in the year, will establish us as the first and only airline with an embedded extended reality platform connecting its operations. It reflects our commitment to spearhead and entrench innovation and cutting-edge technologies in aviation to benefit our customers, communities and the industry."
AWS vice president of professional services Al Opher said: "Extended Reality (XR) is a rapidly emerging technology that will propel the aviation industry into the future. It will profoundly impact training, design, and innovative service propositions in safe environments that are immersive, performance-oriented, and efficient. This collaboration will further equip Emirates employees to deliver unique, consistent end-customer experiences."
iXR will feature advanced technologies, including Epic Games' Unreal Engine, the world's most open and advanced 3D tool, offering developers flexible, scalable, secure, and reliable real-time capabilities on AWS' cloud.
Dubai and the UAE are blazing the way in the digital economy with a clear vision supported by practical policies and regulatory frameworks across virtual assets, AI, and data protection.
The Emirates Pavilion at Expo 2020 is being repurposed as a hub to develop cutting-edge future experiences aligned with the UAE's vision for the digital economy. The Emirates Group continues to engage with industry partners on its Web3 strategy and recruit talent for projects in its pipeline.
Emirates pioneered web virtual reality (VR) technology on emirates.com and its app more than six years ago, offering an immersive 3D, 360-degree view of its aircraft cabin interiors. Emirates also has its own VR app on the Oculus store, offering users accurate, life-size and interactive cabin interior experiences onboard Emirates' flagship A380s and Boeing 777-300ER Gamechanger aircraft.
For more information on the airline and bookings, visit www.emirates.com.