KUALA LUMPUR, 24 May 2023: Following the success of My Destination Sabah & Labuan Meet Johor and Putrajaya Roadshow last year, Tourism Malaysia continues the promotional efforts by organising 'Bah, Mari Pigi Sabah & Labuan Roadshow 2023'.
With the tagline "Sustaining Tourism for Our Future", the programme targets travel trades, expatriates' communities, and students at international schools and private higher learning institutions in Kuala Lumpur, Selangor and Putrajaya.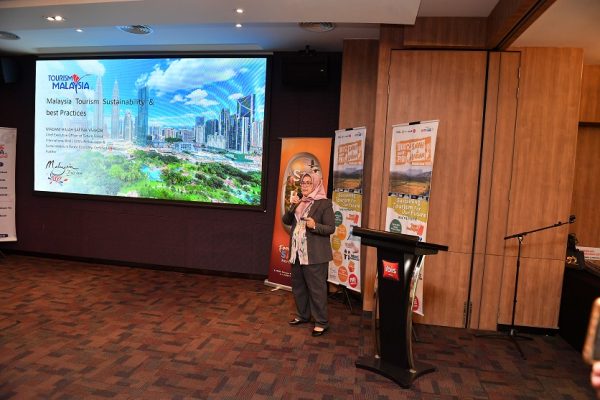 Held in collaboration with Sabah Tourism Board and Malaysia Aviation Group (MAG) as strategic partners, the 34 strong delegates from Sabah and Labuan consist of tour operators, namely Borneo Excursions AHSB Rentacar Sdn Bhd, Borneo Sandakan Tours & Travel, Camp Borneo Travel and Tours Sdn Bhd, Intrepid Tours & Travel, TYK Adventure Tours Sdn Bhd, YTL Gaya Island Resort, Malaysia Aviation Group, members of Federal of Rural Tourism Association Sabah (FERTAS) namely Ranau Tourism Association, Kadamaian Tourism Association and Tambunan Tourism Association; Kadaiku and officials from Tourism Malaysia Sabah and Sabah Tourism Board.
The roadshow began on 23 May with Destination Presentation & B2B Session for Klang Valley agents at Ibis Kuala Lumpur City Centre, targeting 100 to 120 hosted buyers, followed by Roadshow and Get Together dinner at Parkroyal Collection. The Roadshow and B2C Session continues today, 24 May, at Management & Science University, at Sunway University on 25 May and wraps up at Nexus International School Putrajaya on 26 May. Tourism Malaysia forecasts as many as 2,000 people will attend the entire series of events.
"This year, the roadshow concept is different from the previous roadshow, which focused on B2B and destination update sessions, and the target audience was the travel trade in West Malaysia," said Shahrin Mokhtar, director of package development division, who was representing Tourism Malaysia director-general Dato Dr Ammar Abd Ghapar.
"This roadshow aims to promote community-based and rural tourism destinations, products and packages in Sabah and Labuan and subsequently to create awareness among the target audience on sustainable tourism in line with Tourism Malaysia's new focus on promoting Malaysia as the most recognisable must-visit ecotourism destination of the world.
"Undoubtedly, this is the right time to intensify Tourism Malaysia's promotion effort for Visit Malaysia Year in 2025 to achieve the target of 23.5 million international tourists with a projected revenue of MYR76.8 billion," he added.
The event was officiated by Shahrin Mokhtar, director of the package development division of Tourism Malaysia. Also present were Ahmad Johanif Mohd Ali, Senior Deputy Director Domestic & Event Division of Tourism Malaysia; Azmi Abdullah, Director of Tourism Malaysia Central Region; Trecey J Tojuka, Deputy Director of Tourism Malaysia Sabah; and Zarinah Amiluddin, Marketing Manager of Sabah Tourism Board and Malaysia Aviation Group (MAG).