CHIANG RAI, 9 May 2023: Ruili Airlines will be the first international airline to resume direct flights to Chiang Rai, a far north town on Thailand's borders with Myanmar and Laos.
According to the public relations department of the Chiang Rai Mae Fa Luang International Airport, the Chinese airline will fly a direct service from its home base Kunming in Yunnan province, China, to Chiang Rai starting this month without identifying a start date.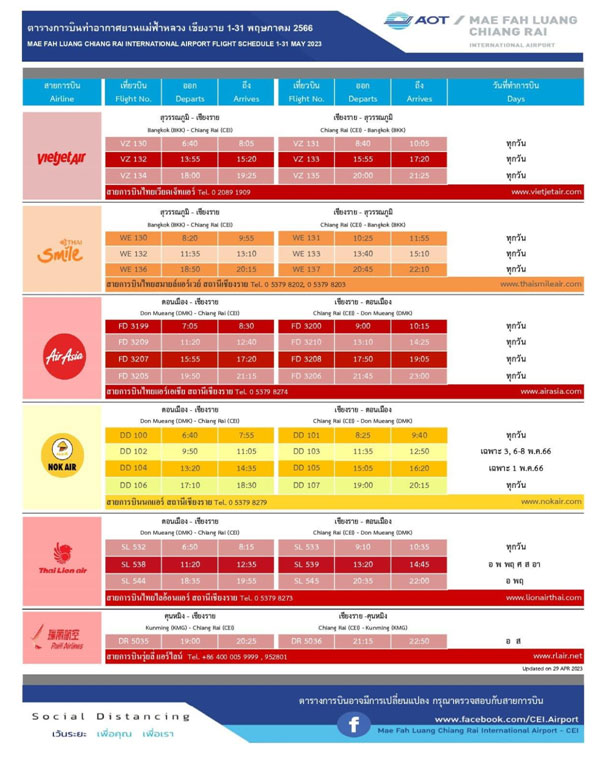 However, www.aeroroutes.com confirms Ruili Airlines has scheduled three weekly flights starting 13 May using a Boeing 737-700, which differed from the airport's graphic that suggests a twice-weekly service on Saturday and Sunday.
The airports graphic shows the Ruili Airlines direct flight as the only international flight scheduled for Chiang Rai during the summer timetable. The other five airlines fly domestic services between Chiang Rai and two airports in Bangkok – Suvarnabhumi and Don Mueang.
Before the Covid-19 pandemic, Chinese airlines offered charter and scheduled flights from Hong Kong, Macau, Shenzhen, Nanjing, Jinghong, Changsha, Chengdu and Guangzhou.
Ruili Airlines' flight DR5035 will depart Kunming at 1900 and arrive in Chiang Rai at 2025. The return flight DR5036 will depart Chiang Rai at 2115 and arrive in Kunming at 2250.
The airline provides no information on the new Chiang Rai flight on its website or social media accounts. Even the popular booking site Trip.com doesn't flag a direct flight option on the Kunming – Chiang Rai route. There is just one option from Chiang Rai to Kunming on Thai AirAsia The flight between the two cities involves a change of plane in the Thai capital and a two-hour wait at Don Mueang airport. The roundabout journey takes five hours and 50 minutes and costs USD475 one way.
Meanwhile, according to Aeroroutes' flight schedules, Ruili Airlines (DR) introduced on 6 May three weekly flights routed Kunming – Jinghong – Chiang Mai using a Boeing 737-700
It will introduce three weekly flights on the Kunming – Phuket route starting on 3 June. It reopens a direct link that will encourage Chinese residents in Kunming to book beach holiday packages to the southern Thailand holiday island. Also, Kunming's outbound travel agents will start promoting beach holiday packages in Cambodia's Sihanoukville province in June. Ruili Airlines will serve Sihanoukville Airport with a weekly direct flight.