KUALA LUMPUR, 16 May 2023: AirAsia announces the addition of three new routes from Kuala Lumpur to the southern regions of China due to start in June and July.
New services to Quanzhou and Guilin, operated by AirAsia Malaysia (AK) and to Chengdu (Tianfu), operated by AirAsia X Malaysia (D7) are now part of a network of 15 routes with over 129 flights weekly between China and Malaysia.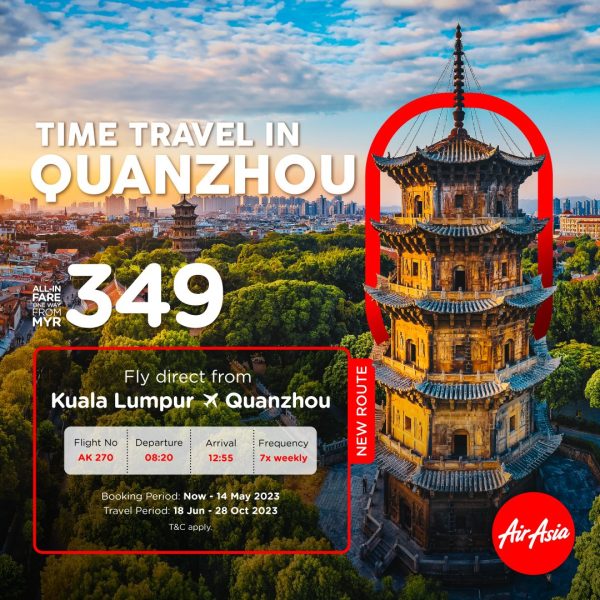 Flights to Quanzhou will recommence twice weekly and start operating on 18 June. Flights to/from Guilin will restart on 18 July, offering three weekly services and flights to Chengdu (Tianfu) will start twice weekly on 1 July and increase to three weekly from 4 July 2023.
Recently, AirAsia Malaysia (AK) also resumed daily services from Kota Kinabalu to Wuhan, further strengthening its position as the Malaysian carrier with the most connections and capacity in China.
AirAsia Malaysia CEO Riad Asmat said: "Following the recent opening of China to the world and strong pent-up demand, our rapid expansion into China continues, and we are proud to connect millions of guests not only to major destinations but also to underserved second-tier cities and launch unique routes such as Quanzhou and Guilin. China remains a key market for our future growth, and we will continue to review several other potential Chinese routes that we hope to be in a position to announce soon."
AirAsia X Malaysia CEO Benyamin Ismail added: "China has historically been one of our core destinations for medium-haul air travel, and our newest route to Chengdu (Tianfu) is the foundation for more AirAsia X flights to China shortly, which will significantly boost our North Asia network. As China is rapidly bouncing back, we expect to launch even more flights to/from the country and increase frequency on our network's most popular and profitable routes in the short to medium term."
To support the new routes, AirAsia is offering fares 20% off on all flights* across its 130 destinations, including all flights to and from China. Deals are available for flights to and from Malaysia, China, Australia, Indochina, India, South Korea, Japan and more. The promotion is available for booking until 21 May 2023 for travel between 1 June and 14 December 2023.
AirAsia Malaysia (AK) will fly 11 routes to and from China with over 118 flights weekly from Kuala Lumpur to Guilin, Quanzhou, Guangzhou, Kunming, Shenzhen, Nanning, and Shantou; Kota Kinabalu to Guangzhou, Shenzhen, Wuhan; and Johor Bahru to Guangzhou.
AirAsia X Malaysia (D7) will fly four routes to and from China with over 11 flights weekly from Kuala Lumpur to Chengdu (Tianfu), Beijing (Daxing), Shanghai, and Hangzhou.
Flight schedule between Kuala Lumpur (KUL) and Quanzhou (JJN):

Flight schedule between Kuala Lumpur (KUL) and Guilin (KWL):

Flight schedule between Kuala Lumpur (KUL) and Chengdu (Tianfu)(CTU):

(Source: AirAsia)