HANOI, 10 August 2023: Helicopter tours across Vietnam were suspended last week until further notice following a fatal crash near Halong Bay, the Vietnam Government Portal reports.
Halong Bay is listed among the world's 25 most beautiful places by CNN, and helicopter tours of the world heritage bay are a popular alternative to day and overnight sightseeing cruises. Helicopter tours resumed services on 28 April 2022 after a two-year pause due to the Covid-19 pandemic.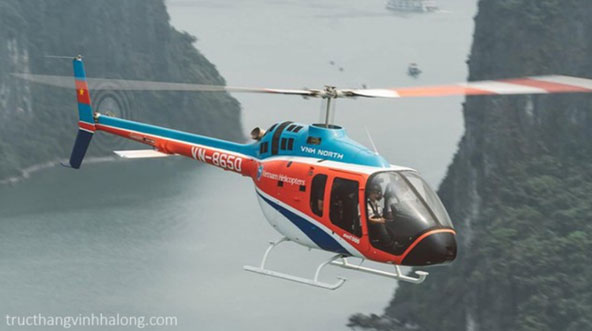 The Civil Aviation Authority of Vietnam confirmed that all helicopter sightseeing tours are suspended nationwide until further notice following the deadly incident.
The five-seat Bell-505 helicopter code VN-8650, owned by the Northern Viet Nam Helicopter Company under the Vietnam Helicopter Corporation, carried four Vietnamese tourists on a sightseeing tour of Halong Bay last Wednesday when it crashed on the edge of the shore, killing the four passengers and pilot.
State-owned Northern Viet Nam Helicopter offers helicopter charter services to visit famous northern and central Vietnam landscapes, such as Halong Bay, Sapa, Dien Bien, Hue and Danang. Known as VNHN, the company is located at Gia Lam airport, a 15-minute drive from downtown Hanoi.
(Source: Vietnam Government Portal)