SINGAPORE, 11 April 2023: A new start-up airline Riyadh Air based in Saudi Arabia, will not make its maiden flight until 2025, but it is already being tipped as a disrupter that could disturb the comfort zone of the Middle East super league of trans-continental airlines.
Owned entirely by Saudi Arabia's Public Investment Fund, aviation experts say the new airline will seek to develop a new super aviation hub in Saudi Arabia's capital Riyadh.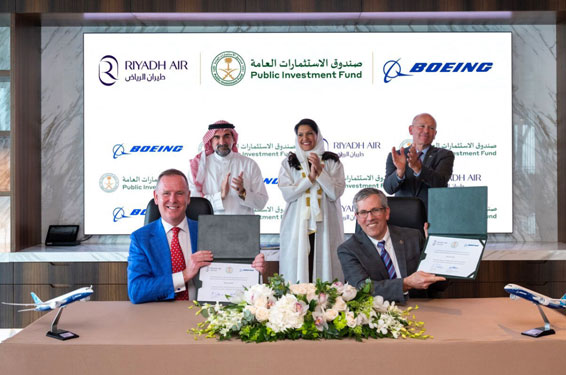 At its 20 March official launch, the airline introduced its CEO Tony Douglas, a former CEO of Etihad Airways, tasked with establishing the first flights in 2025. Experts say the airline will challenge the dominance of Emirates and Etihad, home-based in the UAE, and Qatar Airways in Doha in the long run. Still, it could also extend the possibility of a price war to other global players such as Turkish Airways and Singapore Airlines.
The ultimate goal is to serve 100 destinations out of the Riyadh hub by 2030, an ambitious target that, if successful, could spark a price war with competitors. About 80% of all the passengers flying to hubs in the Middle East are booked on connecting flights to other destinations.
The airline's recently appointed CEO Tony Douglas said: "Riyadh Air will be a digitally native airline, driven by a pioneering spirit with an obsessive focus on attention to detail and innovation at its heart. We aim to permanently transcend our guests' perceptions and experiences of flying in the modern world.
"The new airline comes at a pivotal moment for Saudi Arabia, as it realises the ambitious goals of Vision 2030. We are privileged to actively showcase Saudi Arabia's rich cultural heritage and stunning natural attractions to tourists worldwide."
The new airline company is part of a wider plan to establish the Saudi Arabian capital as a transportation hub and increase tourism to reduce the country's dependence on oil and diversify its economy.
Last month Riyadh Air signed an order for 72 Boeing 787-9 Dreamliner jets; 39 confirmed with an option to acquire 33 additional 787-9s. The first deliveries will inaugurate the flight network in 2025.
On the ground, there are plans for a significant renovation at Riyadh's King Khalid International Airport. It's all part of the  Saudi Vision 2030 and a National Tourism strategy that seeks to attract 100 million annual visits to Saudi Arabia by 2030 and raise the tourism sector's contribution to the GDP by more than 10%.