BANGKOK, 15 March 2023: The Thai AirAsia Mega Sale gets off to a good start offering zero fares* for AirAsia members and only THB40 per trip for non-members.
The sale zooms in on Thai AirAsia (FD) flights from Bangkok (Don Mueang) to Chiang Rai, Phitsanulok, Ubon Ratchathani, Udon Thani, Khon Kaen, Buriram, Nakhon Si Thammarat, Surat Thani, Krabi, Phuket, Nha Trang, Ho Chi Minh, Mandalay, Phnom Penh and Yangon.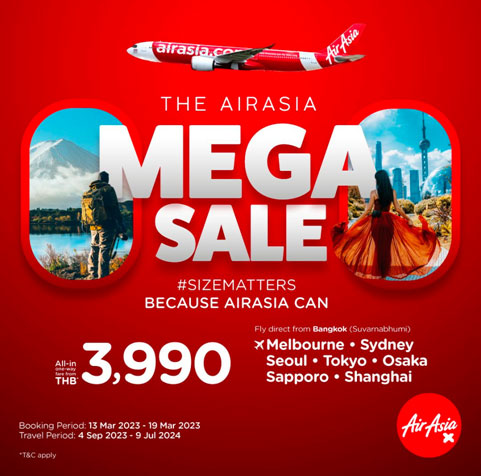 Heavy discounts apply on Thai AirAsia X (XJ) flights direct from Bangkok (Suvarnabhumi) to Melbourne, Sydney, Seoul, Tokyo, Osaka, Sapporo and Shanghai from only THB3,990 one-way.
The promotion also includes a 50% discount for Xtra Carry-On.
Bookings must be made by 19 March via the AirAsia Super App.
The travel period runs from 4 September 2023 to 13 August 2024. On Thai AirAsia X flights, the travel period runs from 4 September 2023 to 9 July 2024.
* Additional charges apply, such as tax and fees.