KOTA KINABALU, 14 March 2023: Sabah's diverse tourism experiences continue to entice vacationers from Western and European countries, Sabah Tourism Board reported at the close of last week's ITB Berlin.
Travel and tour agents attending the world's largest travel trade show told the Sabah Tourism Board (STB) they were optimistic that tours to Sabah, North Borneo, would grow dramatically as airline flight schedules are reinstated to Southeast Asia.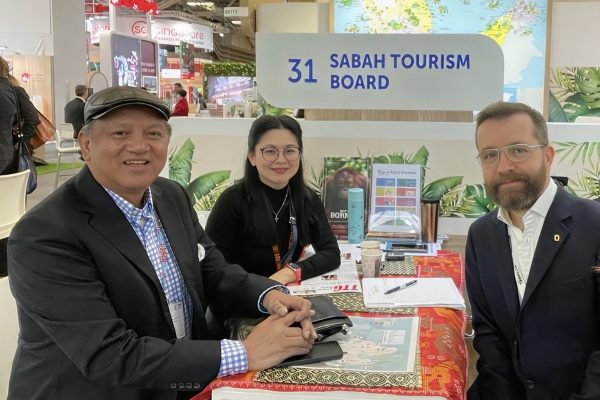 During ITB, 7 to 9 March, the Sabah Tourism team met with 33 travel agencies from Germany, the Netherlands, Switzerland, Denmark, the Czech Republic, the US, the United Kingdom, Sweden, and Australia.
STB chairman Datuk Joniston Bangkuai said most agents he met assured him that Sabah remained a promising holiday destination and that the STB's new tagline, 'Feel Sabah, North Borneo,' would help Sabah stand out as a unique and appealing destination on Borneo island.
"They like how the new tagline highlights the experiential aspect of visiting Sabah. I believe that having people live the experience of travelling while they are at their destination is an effective call to action," said Joniston.
He said STB was inspired to make important changes in the promotional strategy to ensure visitors would experience Sabah, North Borneo, personally and meaningfully.
Sabah's new tourism destination tagline was unveiled at the ITB Berlin on 7 March in the presence of Sabah Tourism, Culture and Environment Minister Datuk Christina Liew, who led a 10-member delegation.
Joniston also said Sabah's diverse tourism offerings had remained a pulling force, especially for Western and European tourists who appreciate adventure and exploring off the usual track.
"Sabah is the ideal getaway for them since it has everything they enjoy – sea, sun, wildlife, and nature. These are the tourists we want to keep pursuing," said Joniston.
In addition, he mentioned that most travel agencies have indicated that Sabah is marketable since it connects to the rest of the world via Kuala Lumpur and Singapore, major transportation hubs in Southeast Asia.
Sabah industry players present at the ITB Berlin were Borneo Eco Tours; Borneo Nature Tours; Borneo Trails; Rustic Borneo; Sepilok Tropical Wildlife Adventure; and Tabin Wildlife Resort.
 Visit: www.sabahtourism.com.
(Your Stories: Sabah Tourism Board)