BANGKOK, 3 March 2023: Centara Hotels & Resorts has partnered with Singapore Airlines to offer its loyalty programme members the opportunity to convert their CentaraThe1 points to KrisFlyer miles.
Enhancing the CentaraThe1 loyalty programme benefits, this partnership will allow members to transfer 5,000 CentaraThe1 points in exchange for 300 KrisFlyer miles.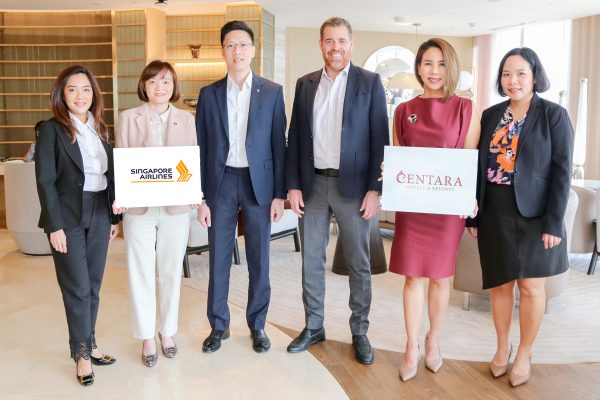 As a new or existing member of the KrisFlyer rewards programme, members can accumulate miles faster and use them to purchase flight tickets or upgrades, shop on KrisShop or book travel experiences on Pelago, among many other exciting rewards.
"It is a privilege to announce our partnership with Singapore Airlines' KrisFlyer rewards program and to be able to offer KrisFlyer members this exclusive opportunity through our CentaraThe1 programme. This also supports our mission to continually enrich our loyalty program by providing a broader range of sought-after benefits to our own members. As the tourism and hotel industry regains its pre-pandemic foothold, we encourage travellers to explore the world again and experience the signature warmth and hospitality at the heart of every Centara stay," said Centara Hotels & Resorts VP – Brand, Marketing & Digital Tom Thrussell.
As an added perk to this offer, members will receive double KrisFlyer miles for transactions completed from 1 to 30 April 2023. This means that for every 5,000 CentaraThe1 points transferred, members will receive 600 KrisFlyer miles.
We are delighted to partner with Centara Hotels & Resorts to bring Thai-inspired experiences to our members. With Centara, we have a shared commitment to offer members more ways to earn rewards and to fulfil their travel aspirations faster," said Singapore Airlines general manager – Thailand, Biren Poh.
Travellers not members of Centara's loyalty programme can sign up for free in less than a minute and immediately start earning points and enjoy benefits, such as 15% off the best available public hotel and resort rates when booking directly. To take advantage of all CentaraThe1 membership privileges, sign-up or login to www.CentaraThe1.com.
Under the Centara x Singapore Airlines KrisFlyer promotion, members must exchange CentaraThe1 points for KrisFlyer miles via the CentaraThe1 rewards platform at centara1card.com/krisflyer. In addition, members are required to provide their valid KrisFlyer membership number to Centara when completing the transfer.
To learn more about the Centara x Singapore Airlines offer, visit https://centara1card.com/krisflyer/