KUALA LUMPUR, 28 February 2023: Trip.com is launching its 3.3 Super Saver Sale ("Sale") running from 28 February 2023 to 3 March 2023, giving users access to deals for hotels, flights, tours and attraction tickets across Malaysia, Singapore, Thailand, Indonesia, Japan, Korea, Hong Kong, Taiwan, Vietnam and Australia.
Daily flash deals released at four-time slots – 1200, 1500, 1800 and 2100 – will run for a limited time only and on a first-come-first-serve basis so be sure to mark your calendars!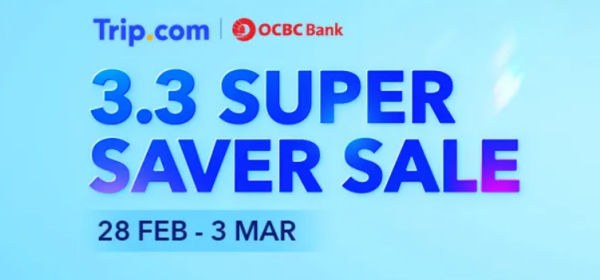 Users can expect up to 50% off hotel deals, with rates going as low as MYR33 a night at hotels in Malaysia or hotels in neighbouring Indonesia and Thailand.
Participating airlines are offering up to 30% off fares. Airlines include Malaysia Airlines, AirAsia, MY Airline, Cathay Pacific, Japan Airlines, All Nippon Airways and STARLUX Airlines. Users can also enjoy an extra MYR100 off with promo codes on selected airfare promotions.
Tours and tickets for selected attractions at up to 30% off are also available, and users can get an extra MYR10 off with promo codes.
Promo codes for discounts up to MYR100 are released daily at 1000 and 1700 and will be up for grabs on a limited basis. Secret promo codes are also available through the Trip.com Telegram group (https://t.me/TriptalksMY).
(English) https://my.trip.com/w/sss-tg or (Bahasa Malaysia) https://my.trip.com/w/sssms-tg