KOTA KINABALU, 7 February 2023: Three rural tourism operators have been awarded the prestigious 2023-2025 ASEAN Tourism Standard Award in Yogyakarta, Indonesia, further elevating the reputation of Sabah's rural tourism products on the international stage.
The recipients are Padas Farmstay (ASEAN Community Based Tourism); Mari-Mari Cultural Village (ASEAN Community Based Tourism); and Homestay TaunGusi (ASEAN Homestay Standard).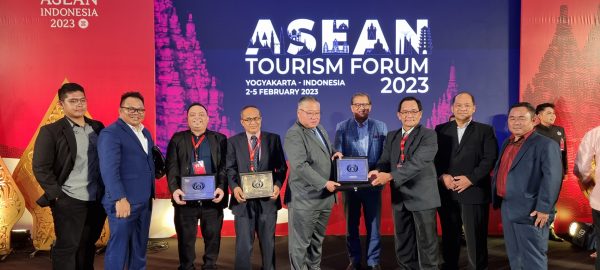 Padas Farmstay managing director ThamYau Kong, Mari-Mari Cultural Village base manager Jeremiah Jamson, and Homestay TaunGusicoordinator Ismail Muile @ Muele received the awards on 5 February, during the ASEAN Tourism Forum.
Sabah Tourism, Culture and Environment Assistant Minister cum Sabah Tourism Board chairman Datuk JonistonBangkuai joined the award ceremony.
He was in Yogyakarta leading the Sabah Tourism Board delegation at the ASEAN Tourism Forum event held from 3 to 5 February.
"I'm delighted to be here to see Sabah's incredible success story in rural tourism unfold. I congratulate our award recipients on their perseverance in maintaining the highest levels of product and service quality despite the challenges of the pandemic.
"The accreditation of three Sabah rural tourism products with the ASEAN Tourism Standard Award is a major boost to the international profile of Sabah's rural tourism offerings.
"This success bodes well for Sabah Tourism's mission to help rural areas and their communities thrive off of tourism. Hopefully, this inspires others to raise the bar and work together to make our rural area a world-class place to visit by 2030," he remarked.
Additionally, the Sabah International Convention Centre won the ASEAN MICE Venue Award (Category Exhibition Venue), with the awarding ceremony set for next year.
Padas Farmstay in Tenom was officially established in 2017, but it has been open to the public since 2013 when an international student group expressed interest in educational and community programmes.
They have received between 10 and 20 school groups per year since then and have completed 60 community projects that have benefited 20 nearby villages.
Mari-Mari Cultural Village started operation in 2008, offering a glimpse into the lives of Sabah's rich culture with its distinctive houses, costumes and traditional skills of Sabah's five major ethnic groups.
Homestay TaunGusi in Kota Belud is a community-based homestay registered with the Ministry of Tourism, Art, and Culture in 2011. It has 18 certified homestay members, offering unique experiences to guests, including cultural performances, horse riding, traditional cooking lessons, river cruises, Bajau parang-making demonstrations, and village tours.
In 2014, the Sabah Tourism Board started the rural tourism initiative with two districts as pilot projects to test the viability of a tourism industry serving the state's rural areas.
The initiative has since been expanded to 25 districts, with at least 30 registered and active associations benefiting from the rural tourism development programme.
"I hope the synergy between the government sector, private sector and the community in developing rural tourism will continue to grow as we face new challenges in the post-pandemic era. We hope to see more of our rural tourism products receiving international recognition," added Joniston.
The ASEAN Tourism Standard Award is a prestigious recognition that helps support the goals of the ASEAN Tourism Standard and is in accordance with the ASEAN's Tourism Strategic Plan 2016-2025 in providing high-quality and excellent service delivery to tourists.
This is designed with the objective of making ASEAN an excellent destination on a global scale.
In previous years, WalaiPenyu Conservation Park and Kadamaian Tourism Association obtained the ASEAN Sustainable Tourism Standard Award in 2022 and ASEAN Community Based Tourism Award in 2019, respectively.
Meanwhile, Sabah Tourism Board makes its presence at the 2023 ASEAN Tourism Forum, the major annual tourism event in the region, to expand prospects for ASEAN tourism marketing and potential connections between stakeholders with travel businesses in the region.
The event is attended by top industry policymakers, practitioners and suppliers of ASEAN-based tourism products and services.
For more information visit www.sabahtourism.com
(Your Stories: Sabah Tourism Board)