YANGON, 8 February 2023: Myanmar Airways International increases frequencies on key routes in Asia during February and extends the validity of Chinese New Year fares to March.
The airline schedules 11 flights weekly on the Yangon to Kuala Lumpur route starting 20 February, with two new flights on Monday and Saturday using an A320 aircraft. The fare starts at USD130.25 one-way.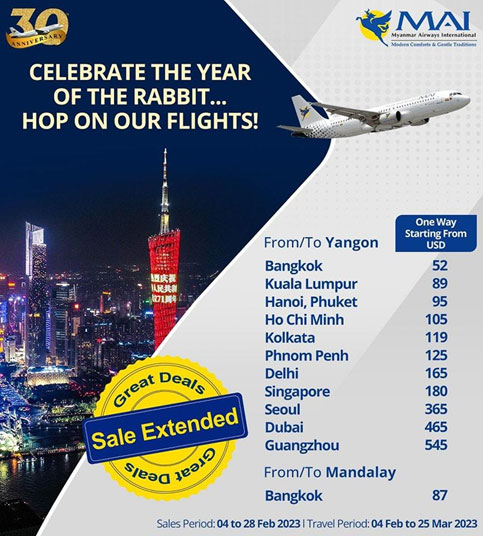 The airline also announced on its Facebook page that it would add a Sunday flight from Yangon to Guangzhou in China starting 19 February in addition to flights every Tuesday and Thursday. The one-way fare costs USD545.
MAI will increase flights on the Yangon to Hanoi route by adding a Wednesday departure from Yangon starting 15 February. Before, the airline served Hanoi with flights on Monday and Friday. The one-way fare is around USD95.
During February, the airline is scheduling three weekly services from Yangon to Seoul in South Korea and Dubai in the UAE. Flights depart Yangon every Tuesday, Friday and Sunday. The airline quotes the Seoul fare at USD365.25 and Dubai at USD465.
Meanwhile, the airline extends the sales window for its Chinese New Year fares until 28 February, and the travel period extends to 25 March.
On the domestic route network, MAI's Embraer E190 is flying the route from Yangon to Thandwe, the nearest airport to the beach resorts at Ngapali. The service started on 7 February, with departures from Yangon airport on Tuesday, Thursday and Saturday.