JAKARTA, 3 February 2023: To mark the 1 February anniversary of Myanmar's military coup, civil society groups want assurances that Indonesia, the incoming ASEAN chair for 2023, will not legitimise the Myanmar junta at any cost.
In a press statement released by Civicus on the eve of the ASEAN Tourism Forum that opened in Yogyakarta on 1 February, 22 civil society agencies said a commitment should be made to "disinvite junta representatives from ASEAN meetings at all levels."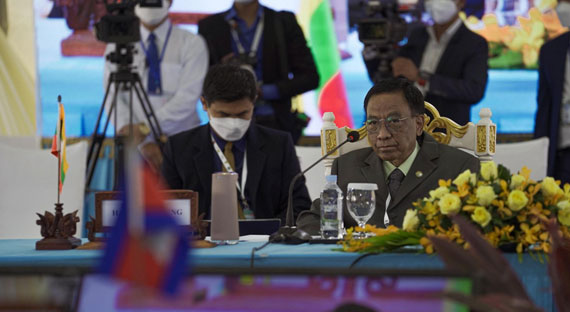 Just days before the 26th Meeting of the ASEAN Tourism Ministers convened from 2 to 3 February 2023, the event's agenda indicated the Myanmar junta's Hotels and Tourism Minister (MOHT), Htay Aung, was due to attend. The Civicus statement claimed his profile was later deleted from the official website.
The ASEAN Tourism Forum opened on 1 February, coinciding with the second anniversary of Myanmar's military coup that has waged a terror campaign against the people of Myanmar, Civicus noted.
"Our organisations appreciate the effort of Indonesia as the chair of ASEAN to remove the junta's Hotels and Tourism Minister from the list of high-level officials. This move is consistent with the effort proposed by the President of Indonesia, Joko Widodo, in November 2022 to bar Myanmar military representatives from all ASEAN-related meetings, including the annual Summit."
However, Civicus noted that the "fact that the initial ATF programme for the high-level government meetings still included the representative of the illegitimate junta sends a signal that the message from President Joko Widodo has yet to be carefully mainstreamed and implemented by all sectors and ministries."
On Wednesday, Myanmar Now reported Myanmar's powerful military council announced a reshuffle that included the appointment of Htay Aung as the chair of the Anti-Corruption Commission. Aung Thaw, a retired navy officer and former deputy minister of defence under ex-general Thein Sein's government, takes over the role of Minister of Hotels and Tourism. However, Myanmar Now noted that a one-hour ASEAN Tourism Forum media briefing by Myanmar's national tourism office, scheduled for Thursday, continued as planned but without any senior officials appointed by the military government in attendance. All 10 countries making up ASEAN traditionally hold media briefings during the ATF, mainly focusing on marketing campaigns and tourism development plans.
The media focus concentrates on the fallout from the military coup. Over the last two years, more than 2,700 people have been killed, and over 17,000 people have been illegally detained, according to the Assistance Association for Political Prisoners.
Since the coup on 1 February 2021, over 1.1 million people have been displaced. Towns and villages have been burned or blown away by artillery shelling and airstrikes.
The 22 civil society agencies led by Civicus claimed any engagement with the junta was a breach of the ASEAN Charter.
Tourism is one of the sectors the junta uses to claim legitimacy and is a tool to raise foreign currency to finance the regime. Myanmar's military junta profits from most tourism activities through direct and indirect ownership and investment. That includes visa fees, insurance, official exchange and when tourists use military-owned hotels and transport.
Indonesia's President Joko Widodo officially kicked off Indonesia's 2023 ASEAN chairmanship last Sunday. The country took over the chair from its previous holder Cambodia at the 40th and 41st ASEAN Summit in Phnom Penh, Cambodia, on 14 November 2022.
22 civil societies endorse the Civicus statement
ALTSEAN Burma
Amnesty International Indonesia
ASEAN SOGIE Caucus
ASEAN Youth Forum
Aliansi Jurnalis Independen (AJI)
Arus Pelangi
Asia Democracy Network
Asia Justice and Rights (AJAR)
Asian Forum for Human Rights and Development (FORUM-ASIA)
Better Engagement Between East and Southeast Asia (BEBESEA)
CIVICUS: World Alliance for Citizen Participation
Commission for the Disappeared and Victims of Violence (KontraS)
Human Rights Working Group
Indonesian Legal Aid and Human Rights Association (PBHI)
Indonesia Legal Aid Foundation (YLBHI)
Initiative for International Dialogue (IID)
Kurawal Foundation
Migrant CARE
Progressive Voice
Southeast Asia Freedom of Expression Network (SAFENet)
SEAJunction
YAPPIKA
(Source: Civicus)
CIVICUS is a global alliance of civil society organisations and activists dedicated to strengthening citizen action and civil society worldwide. Launched in 2002 and headquartered in Johannesburg, South Africa, it has more than 10,000 members in over 175 countries.
For more details, visit https://www.civicus.org/index.php