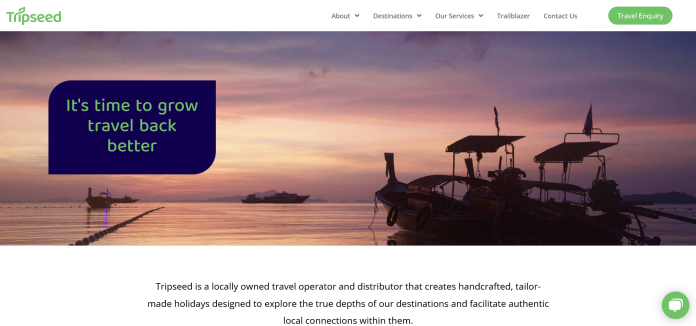 BANGKOK, 11 January 2023: Tripseed, a Thailand-based ground operator and travel specialist that focuses on sustainable and ethically-led tourism, has announced that they have become the newest member of the Global Collective for Travel.
The Global Collective for Travel is a collaboration between locally owned and operated DMCs worldwide to drive transformational change within the travel industry. The goal is to promote a more ethical model for tourism and provide industry partners worldwide access to a less extractive and more sustainable supply chain that ensures more revenue reaches the destinations that travellers are visiting.
"We are very excited to join the Global Collective for Travel," says Narissara Wongmahawan, co-founder of Tripseed. "Since our earliest discussions, it became clear that we all share very similar philosophies and values for our businesses. We all align strongly on the high levels of service excellence that we believe our partners and their travellers should receive at all times. Delivering distinctive travel experiences and a more authentic window into our destinations."
With the addition of Tripseed, the Global Collective for Travel is now present in 10 destinations worldwide, comprising Thailand, Vietnam, Cambodia, Turkey, Cyprus, India and the Himalayas, Morocco, Costa Rica, Spain, and Portugal.
The Global Collective for Travel members work directly with the travel trade 'boots-on-the-ground' in their respective destinations, delivering innovative tours and experiences to keep market offerings fresh and exhilarating – a far cry from the standard mass-market fare. They enable travellers booked with partner agencies to forge authentic local connections inside a destination. They promote equality and empowerment for local employees, casual workers such as Tour Guides and Drivers, and other local suppliers.
"Meeting with the Tripseed founders, learning about their work and what they aspire to become tells us there are many people like us who want similar things. Responsible travel, equity for the local community, amazing holidays, and genuine connection with the places you're visiting. Most importantly, the things they do every day matter and those whose lives they impact matter," said Tuan Pham, one of the founding members of the collective.
Tripseed is a ground operator and tailor-made holiday specialist based in Thailand. Founded in 2021 by three veterans of destination management in Asia, with over two decades of combined experience designing and operating travel for some of the world's leading travel agents and tour operators.
For more information, visit https://www.tripseed.com