SINGAPORE, 25 January 2023: Japan was the most sought-after destination for travellers across Asia during the week-long Lunar New Year holiday peak, Agoda reveals.
According to search data from the global digital travel platform, Japan was the most searched destination overall, followed by Malaysia and Thailand.
This year, Agoda insights also show that many travellers opted for short hops to neighbouring destinations during the holiday week. Notable exceptions included travellers from China and Japan who sought the tropical sun, with Thailand bookings taking the top spot. Meanwhile, Thai travellers headed for a winter experience in Japan.
Agoda's search data also reveals the top choices within the three most popular markets by volume, Japan, Malaysia, and Thailand. Cosmopolitan cities remained a significant draw in Japan, with Tokyo, Osaka and Fukuoka being the three most searched destinations.
Reflective of its appealing cultural heritage and its bustling city vibes, Agoda's search data showed Kuala Lumpur taking the top spot in Malaysia, followed by Malacca and Penang in second and third place, respectively. Bangkok took the number one slot in Thailand, followed by the coastal party town Pattaya and the northern city of Chiang Mai.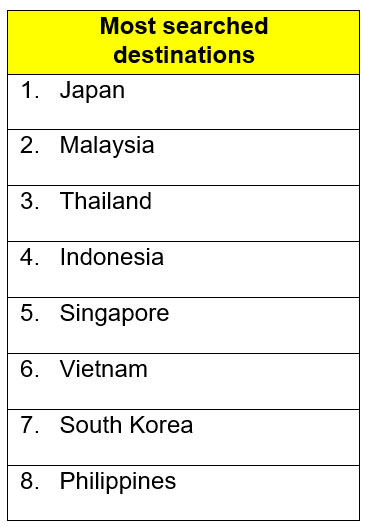 Top five ranked destinations by markets for the Lunar New Year 2023