DUBAI, 21 November 2023: Emirates, the world's biggest A380 operator, is doubling down its investments to maintain and improve operational efficiency, as well as maximise fleet performance and reliability of its double-decker fleet well into the next decade.
The airline has signed agreements worth over USD1.5 billion at the sidelines of the recent Dubai Airshow, with an expanded network of providers and partners to deliver superior aviation aftermarket and Maintenance, Repair and Overhaul (MRO) services.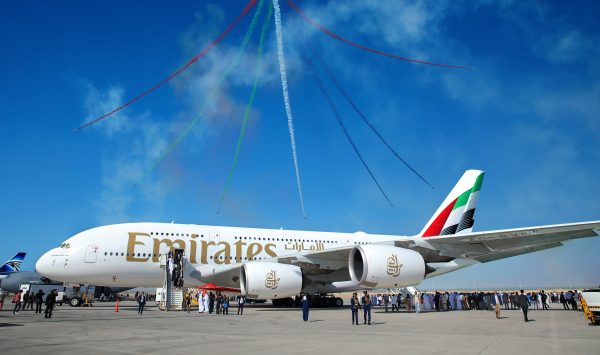 Emirates will leverage, at scale, the expertise and capabilities of partners, including Honeywell, Collins Aerospace, Pratt & Whitney, Safran, Lufthansa Technik, OEM Services, Gameco, Haeco, and others to optimise its A380 fleet's lifespan and unlock additional operational efficiency gains, all at its exacting standards. Emirates' partners will provide various maintenance, repair, and overhaul (MRO) services, parts provisioning, component repairs, and technical support.
The work, already underway, aligns with the airline's commitment to quality and ensures customers can enjoy its signature onboard products and services for years to come. In parallel with the work carried out to maintain its A380 fleet, the airline continues to progress with the largest known retrofit programme in the industry, worth USD2 billion, poised to elevate the onboard experience even further.
Emirates Airline President Sir Tim Clark said: "The A380 has been and will continue to be very much part of the Emirates story. Its size and capacity have allowed Emirates to unlock growth at some of the world's busiest airports, opened new opportunities for travellers, and substantially raised standards for passenger comfort. Our continued commitment to and confidence in the A380 is why we're investing heavily to keep the fleet in optimal shape and pristine condition. The A380 will remain core to our network and customer proposition for the next decade, and we want to ensure our fleet is in tip-top shape."
Emirates and Collins Aerospace have signed a long-term agreement to support the airline's A380 Main Landing gear overhaul programme. Collins has been a pivotal partner for Emirates and will provide local support in the UAE for a substantial part of the overhaul scope of the landing gear programme for A380 aircraft.
Safran Landing Systems will provide Emirates exclusive services for A380 Nose Landing gear. Safran's broad network scope, which includes MRO facilities in Singapore and France, will provide Emirates with the expertise, capabilities and tailored support services covering the A380's landing systems lifecycle.
Honeywell will provide wheels and carbon brakes for 116 A380 aircraft. Honeywell's advanced wheel and braking designs save weight, reduce maintenance costs and help extend overall brake life. The wheels and brakes will be maintained at Emirates maintenance shops, ensuring continued maintenance support in Dubai.
In a relationship that spans 15 years, Emirates has extended its agreement with OEMServices for ongoing component support for the airline's A380, which includes the supply of spare parts, repair services and engineering support.
Pratt and Whitney and Emirates have signed a maintenance and support agreement for the airline's PW980 Auxiliary Power Units, the most powerful APUs in commercial service. The agreement ensures that Emirates receives timely and effective maintenance planning and support.
Emirates has been building a select network of MRO partners to support nose-to-tail line base maintenance services, and the airline has been closely working with these providers to align with its commercial and technical performance requirements consistently.
Lufthansa Technik will provide Base Maintenance Services (BMS) for the airline's A380s and will provide additional C Checks for the aircraft across the next three years. The C Checks will be performed by Lufthansa Technik Philippines (LTP) in Manila. Since January this year, Lufthansa Technik's competence centre for Base Maintenance Services in Manila has carried out several heavy checks for Emirates' A380s. Emirates has also signed a main landing gear agreement with Lufthansa Technik for its future overhaul requirements.
The airline has also signed agreements with Gameco, based in Guangzhou, China, and Haeco in Xiamen, China, for A380 C Checks starting in January and February 2024, respectively.
Emirates operates around 90 A380s, with more to enter active service in the coming months. Last year, the airline kick-started its retrofit programme, with 67 A380s earmarked for a refresh across every cabin class and installing new Premium Economy Class cabins. So far, 16 aircraft have been upgraded and are now in full commercial service. The project, unprecedented in scale and size in the industry, is managed entirely by the Emirates Engineering team.
For flight information and bookings, visit www.emirates.com. 
(Source: Emirates)