KUALA LUMPUR, 20 November 2023: Singapore Tourism Board (STB), TNG Digital, and Alipay+ have signed a MoU to offer visitors from Malaysia curated deals for their next holiday in Singapore.
The partnership will not only introduce more cashless payment options to travellers but also allow users access to a wide range of exciting promotions when in Singapore. There are about 10 in-destination promotions showcased in Singapore, and more will be added in the coming months.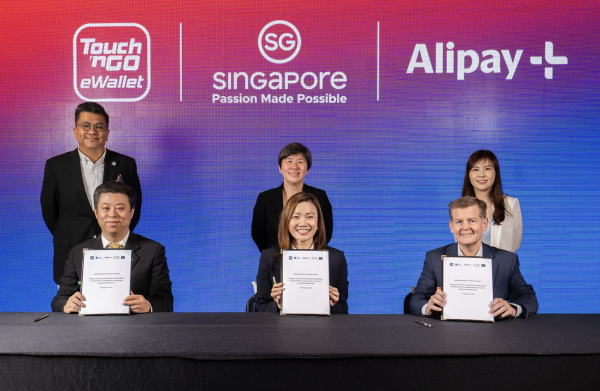 Malaysian users of Touch 'n Go eWallet by TNG Digital can now enjoy the convenience of using the eWallet for booking flights or purchasing travel insurance before their trips. Soon, they can pay and redeem promotions via Touch 'n Go eWallet by TNG Digital across more lifestyle merchants in Singapore, such as retail stores, attractions and restaurants. Users can also expect to enjoy up to an 80% discount for transport and daily items. As a payment partner of the Alipay+ ecosystem, TNG Digital allows users from Malaysia to tap on their Touch 'n Go eWallet to transact in Singapore and enjoy additional benefits provided by Alipay+.
Singapore is seeing a steady rebound in international travel and tourism – between January and October 2023, the city-state recorded more than 11 million visitor arrivals globally. Malaysia is one of Singapore's top three tourism source markets, with more than 891,000 visitor arrivals between January and October this year.
Singapore Tourism Board executive director, Southeast Asia Terrence Voon said: "Travellers in the post-pandemic world expect a seamless experience enabled by contactless payments. Our timely collaboration with TNG Digital and Alipay+ taps into this trend, leveraging our partners' strengths to promote Singapore as a destination of choice and encouraging travellers to get more out of their visit to Singapore."
The partnership, which will be made available to all verified Touch 'n Go eWallet users by TNG Digital in Malaysia, will cover co-investment in joint marketing campaigns and entail collaborations to onboard more Singapore-based merchants to offer attractive tourist promotions.
Alipay+ will work with TNG Digital to continue promoting its A+ Rewards programme, a rewards platform within the eWallet. The partnership enables more Singapore stakeholders to tap into both TNG Digital and Alipay+ platforms to showcase the destination's myriad lifestyle offerings further.