SINGAPORE, 28 September 2023: As autumn ushers in cooler temperatures, Japan transforms into a canvas painted with rich hues, attracting travellers worldwide. Here are the enchanting autumn landscapes from the north to the south of Japan, introducing the unique charms of each region.
Oirase Gorge・Aomori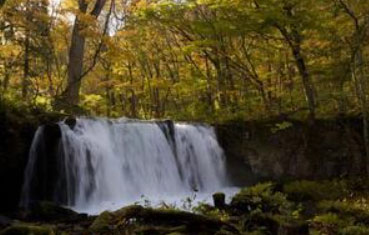 The Oirase Gorge, stretching for about 14 km in Aomori Prefecture, is recognised as a national natural monument in Japan alongside Lake Towada. This scenic spot offers a well-maintained hiking trail from Yakeyama to Nenokuchi. Hiking the entire trail typically takes hikers 4 to 5 hours, making it an ideal half-day excursion. Along the way, visitors are treated to breathtaking views of autumn foliage. The transformation of leaves begins around mid-October in the upstream areas near Lake Towada and continues until early November in the downstream regions near Yakeyama. One of the distinctive features of the Towada-Oirase region is the relatively late onset of fall colours, especially when compared to nearby landmarks such as the Hakkoda Mountains.
Naruko Gorge・Miyagi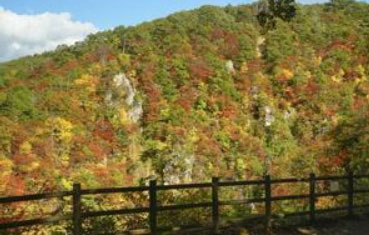 Naruko Gorge is a picturesque scenic spot in Osaki City, in the northern part of Miyagi Prefecture. The gorge showcases the beauty of a V-shaped valley that reaches a depth of approximately 100 metres and spans about 2.5 km. Carved by the erosion of the Otani River, the gorge is distinguished by its rugged white cliffs, adorned with dense groves of deciduous broadleaf trees, including beech, oak, maple, Japanese oak, and red oak. In some areas, unique and intriguing rock formations tower above. From late October to early November, these trees turn vibrant shades of red and yellow, creating a striking contrast with evergreens like pine trees, captivating the gaze of many tourists. Naruko Gorge is also a part of the Kurikoma Quasi-National Park. By walking the Ofukazawa Promenade, visitors can admire this stunning landscape. During the autumn foliage season, a special "Autumn Leaves" bus service operates between JR Naruko Onsen Station and Nakayamadaira Onsen Station, making access even more convenient.
Dakigaeri Gorge・Akita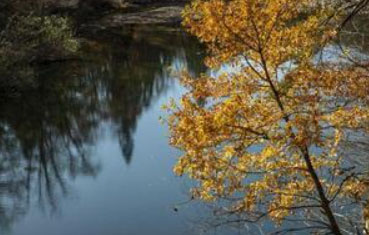 Dakigaeri Gorge, stretching for 10 km, is located between Lake Tazawa and Kakunodate, running through the central section of the Tamagawa River. The gorge boasts untouched forests on both sides, a river with a unique blue hue, and a variety of waterfalls. This scenic beauty has made it a top destination for witnessing vibrant foliage. The name 'Dakigaeri' originates from the narrow and perilous mountain trails where, in history, people had to embrace each other to pass. Visitors can take in the sights of suspension bridges, unusual rock formations, and rushing rapids from its well-maintained walking paths. Every year, from mid-October to early November, the 'Dakigaeri Valley Autumn Leaves Festival' draws thousands of visitors.
Lake Chuzenji・Tochigi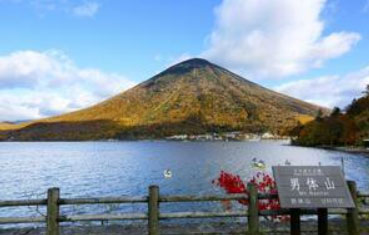 Lake Chuzenji is an iconic feature of Nikko and is considered Japan's highest natural lake, situated at an elevation of 1,269 metres. Located at the entrance to Oku-Nikko and emblematic of Nikkō National Park, it is believed that the lake was formed around 20,000 years ago when lava from the eruption of Mt. Nantai blocked a valley. Surrounding the lake, trees such as maple, lacquer, beech, oak, and katsura thrive. During the fall foliage season from mid-October to early November, these trees transform into shades of red and yellow, their vibrant colours reflecting beautifully upon the lake's surface. While strolling along the lake's edge is a joy, taking a sightseeing boat offers a unique perspective, especially of the autumn colours. The Hangetsuyama Observatory, in particular, offers a panoramic view of Mt Nantai and Lake Chuzenji, showcasing the fall colours of Haccho-Dejima and the vast mountain landscape.
Yahiko Park・Niigata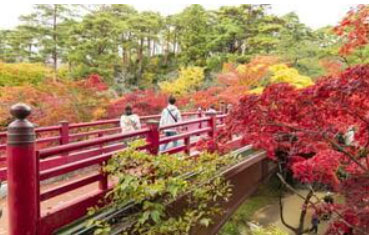 Yahiko Park is located directly in front of JR Yahiko Station and covers an extensive area of 160,000 square meters. It boasts waterfalls, streams, and shrines and is at the foot of the popular Mt. Yahiko, known for hiking and viewing spots. Inside the park, passing through a tunnel leads to "Momiji-dani Valley." During summer, this valley is filled with the refreshing green of maple trees, while in autumn, it transforms into a vibrant sea of crimson leaves. Especially during the fall foliage season, numerous visitors from both domestic and international destinations flock here to admire the beautiful scenery. Overlooking this valley is a bridge known as "Kangetsu-kyo Bridge." The contrast between its red hue and the autumn leaves creates a breathtaking view. The scenes from atop the bridge and from the side of the valley are absolutely spectacular.
The best time to view the autumn leaves is from late October to mid-November.
Kurobe Gorge・Toyama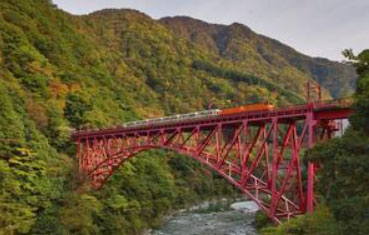 Kurobe Gorge is recognised as Japan's deepest V-shaped gorge. Within this stunning landscape, the 'Kurobe Gorge Railway' covers a distance of about 20 km, taking around an hour and a half to travel from Unazuki to Keyakidaira. As you depart from Unazuki Station, the striking red "Shin-Yamabiko Bridge" immediately comes into view, surrounded by mountains adorned with autumn leaves. Particularly, the view of the fall foliage while crossing this bridge on the trolley train is breathtakingly beautiful, offering an unforgettable experience. Along the route, there are plenty of attractions, including the 60-metre-tall Atobiki Bridge, the renowned autumn spot Kinshukan, and the perennial snow of Kurobe.
Lake Kawaguchi・Yamanashi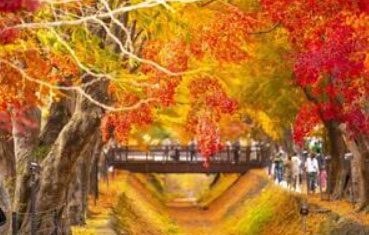 Lake Kawaguchi is the most popular tourist destination among the Fuji Five Lakes. In particular, the "Kawaguchiko Momiji Corridor" is renowned in Yamanashi Prefecture as one of the premier spots for autumn foliage. This corridor has 60 towering maple trees on both sides of the Nashigawa River. When they reach their peak colour, the approximately 2 km pathway transforms into a tunnel of vibrant leaves, and fallen foliage dyes the river red.
HidaTakayama・Gifu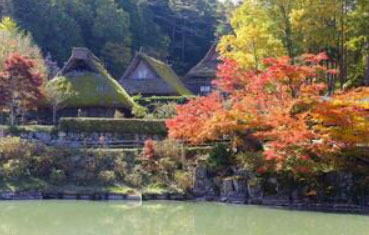 Hida Takayama's open-air museum, "Hida no Sato", covers an area of approximately 132,000 square meters and houses 30 traditional Hida farmhouses. These structures, built over 100 years ago before Japan's modernisation, have been relocated from various places. Among them are four gassho-zukuri farmhouses, designated as important cultural properties of the country. Each house displays everyday tools and items from the era, allowing visitors to experience the traditional rural life of Hida.
Momijidani Park・Hiroshima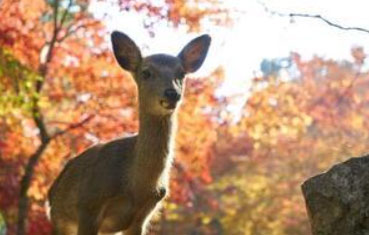 The Momijidani Park on Miyajima is located just a 5-minute walk from the Itsukushima Shrine and serves as a scenic corridor between Miyajima's shopping district and the ropeway station to Mt. Misen. The park offers a lush natural environment that evokes the atmosphere of a deep forest, and first-time visitors may even sense the feeling of being on a mountain trail. The park hosts approximately 700 maple trees, including about 560 Japanese maples, 100 large-leaved maples, and an additional 40 from species such as urihadakaede (trident maple) and mountain maple. The peak of the autumn foliage occurs from mid to late November, during which fallen leaves blanket the ground in vibrant red hues.
Takachiho Gorge・Miyazaki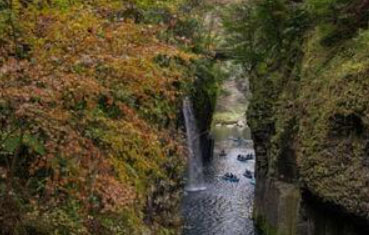 Takachiho Gorge is renowned as one of the most beautiful natural spots representing the Kyushu region. Stretching approximately 1.7km, the gorge offers a stunning contrast of emerald-green clear waters against uniquely shaped rocks, captivating numerous tourists. Located near the borders of Miyazaki, Kumamoto, and Oita prefectures, this area, centred around the Manai Falls, is adorned with spectacular autumn foliage.
While many autumn destinations typically offer views from pedestrian paths, a distinctive feature of Takachiho Gorge is the opportunity to enjoy fall colours while boating down the river. The peak period for autumn foliage typically spans from early to late November, drawing a particularly high number of tourists during this season.
For more information visit https://www.japan.travel/en/sg/
(Source: Japan National Tourism Organisation)