KUCHING, 4 September 2023: In collaboration with Royal Brunei Airlines, the Sarawak Tourism Board hosted a familiarisation trip for Australian tour agents to update them on the region's diverse offerings.
Nine Australian tour agents visited Sarawak on an 8-day familiarisation trip that originated in Brunei and reached Sarawak's ecotourism jewel – Gunong Mulu National Park. The travel agents continued their Sarawak journey to Kuching to explore the capital city's various leisure offerings, including visits to the Semenggoh Wildlife Centre.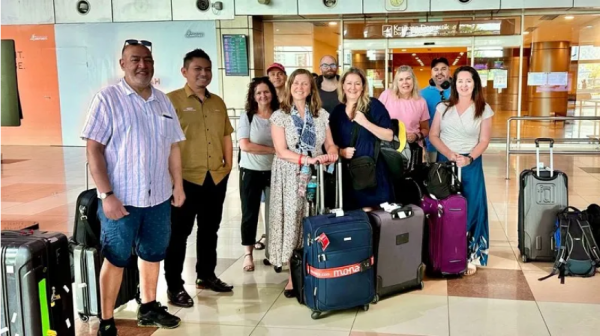 "Sarawak Tourism Board always looks to build marketing partnerships between our Sarawak travel agents and Australian partners towards enhancing Sarawak's visibility as a premier ecotourism destination to the international market," said STB marketing director for Europe and Oceania Maurice Balang.
"Familiarisation tours play a very important role in providing our Australian partners and tour agents with an immersive understanding of Sarawak as a destination, enabling them to effectively promote and market this region, especially as we become more actively engaged in Responsible Tourism activities, practices and promotions. STB would like to extend our gratitude to the Sarawak tourism industry of tour agents, hotels, restaurants and tourism-related organisations like the Sarawak Tourism Federation, whose support contributes to the success of our familiarisation tour programmes."
Tour agents from Sarawak had the opportunity to engage and share their experiences and updates on their exceptional adventure and ecotourism products with the Australian agents during an engagement session organised by the Sarawak Tourism Board at a local hotel.
The event was part of the marketing and promotions partnership between Sarawak Tourism Board and Royal Brunei Airlines, which promotes Sarawak as the preferred destination in Malaysia.
For more information on Sarawak visit www.sarawaktourism.com
(Source: STB)