HONG KONG, 18 August 2023: Resorts World Cruises launches its six-day/five-night Naha-Miyakojima cruise aboard the Resorts World One, which will depart every two weeks from Hong Kong, starting 1 October 2023.
The cruise departing from Hong Kong heads for the islands of Naha and Miyakojima in the Okinawa prefecture, renowned for having some of Japan's best beaches and tropical coastlines, natural beauty, rich cultural heritage and delicious seafood cuisines.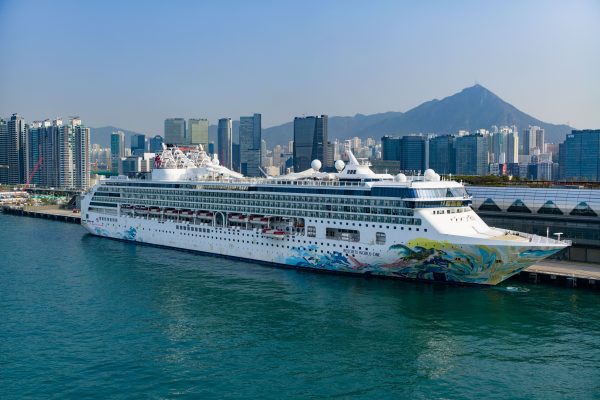 With alternate weekly departures from Hong Kong, vacationers can also choose between the five-night Naha-Miyakojima cruise itinerary and the two or three-night Sanya cruise itinerary.
Resorts World One departs from Hong Kong every alternate Sunday to Okinawa, where passengers can explore both Naha and Miyakojima.
The city of Naha is Okinawa's cosmopolitan capital and gateway to the island, showcasing many hallmark attractions with seaside pleasures. A visit to Naha is not complete without a trip to the energetic Kokusai Street, which is also central to some of the city's largest festivals.
The cruise also visits Miyakojima, an island many consider one of Japan's most beautiful spots. With a sub-tropical climate all year round, Miyakojima offers some of the country's best beaches, perfect for snorkelling, diving and thrilling water sports.
Cruise fares for the six-day/five-night Naha-Miyakojima cruise start from HKD4,400 per person based on twin-sharing with bookings opened from 21 August 2023 onwards.
About Resorts World Cruises
Resorts World Cruises is a newly established luxury and dynamic lifestyle cruise brand that is rich in Asian heritage, offer- ing a personalized cruising lifestyle with diverse international experiences. Resorts World Cruises – 'Resorts Cruising at Sea' aims to redefine the cruising experience altogether by providing exciting and unique offerings, a variety of accommo- dations, including the world-class luxury accommodation, "The Palace" – a luxury ship-within-a ship private enclave with butler and its own service exclusive restaurant, sundeck, gym, spa and other facilities.
Resorts World Cruises is a brand extension of "Resorts World", a global brand with over 46 properties in 8 countries and 4 continents. Resorts World properties attract over 80 million visitors a year and has over 30,000 employees. The latest property to open is US$ 4.3 billion Resorts World Las Vegas in 2021.
Resorts World Cruises debut on 15 June 2022 in Singapore and Kuala Lumpur (Port Klang) with the operations of the luxurious 3,352 passenger and 150,695 gross ton Genting Dream. Staring 10 March 2023, the 1,856 passenger and 75,338 gross ton Resorts World One commenced her first homeport deployment in Hong Kong. With the inception of Resorts World Cruises, the brand aims to position itself as the leading cruise line in the region for Asian sourced markets, providing the highest standards in cruise experience, safety and precautionary measures.
Website: www.rwcruises.com