VIENTIANE, Laos, 26 July 2023: Two famous river cruise operators – Heritage Line and Pandaw – released details of their latest Mekong River cruises for 2024 and 2025 this week.
Heritage Line's river cruise boat Anouvong will embark on its maiden river sail on the upper Mekon River bordering Laos and Thailand from 27 to 31 August.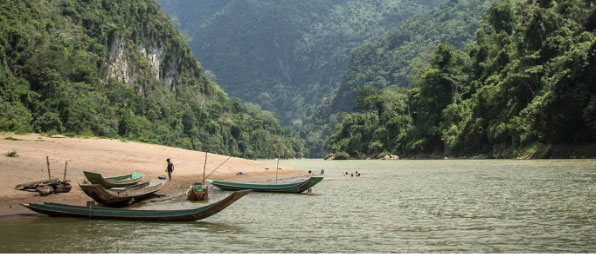 The 10-cabin boat took almost four years to complete at a shipyard in Laos, with long delays in assembling the luxury cruise boat during the Covid-19 pandemic.
Now ahead of the 27 August maiden sailing Heritage Line is promoting the vessel as the Mekong River's first luxury boat with three spacious cabin types.
The first sailing will depart the World Heritage town of Luang Prabang in northern Laos and conclude in the riverside town of Huay Xay, facing the Thai town of Chiang Khong in Chiang Rai province.
Heritage Line will feature the Anouvong in three Mekong River trips. A three-night sail between Luang Prabang and Huay Xai (up and downstream options) priced at USD1,777 Departure dates are scheduled from October 2023 to March 2024. The seven-night sail from Huay Xai to Vientiane ( the Lao PDR capital) sails from October 2023 to March 2024 and costs USD4,192 per person. A nine-night upstream sail from Vientiane to Huay Xai costs USD4,182 with sailings from April to September 2024.
Pandaw Cruises
Meanwhile, Pandaw Cruises has announced a new river and land tour featuring the Mekong River in northern Laos and Thailand. The new itinerary combines a 10-night river expedition through Laos with an exploration of the mountains of northern Thailand and the hill tribes that have inhabited the region for centuries.
The 16-night trip is available to book for departure dates through 2025, exploring the Mekong River and overland routes from Vientiane to Chiang Mai. The river trip ends in Chiang Khong in Chiang Rai province, followed by an overland trip to Chiang Mai featuring visits to hill-tribe communities and has a starting price tag of USD6,251 per person.
Pandaw's 16-night cruise and overland trip in Laos and northern Thailand.