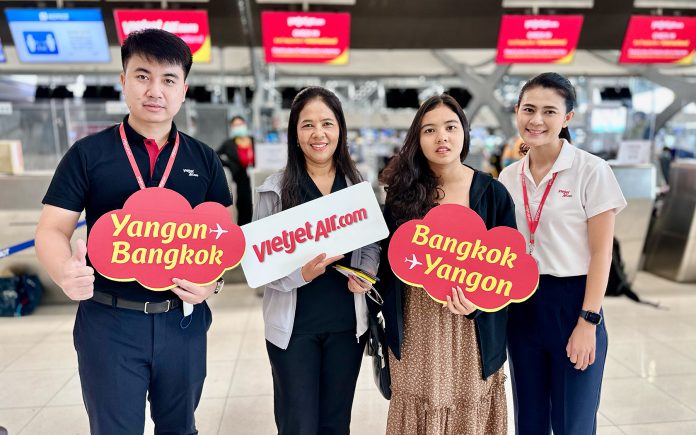 BANGKOK, 6 June 2023: Thai Vietjet is flying a daily roundtrip between Bangkok and Yangon on behalf of Myanmar National Airlines until 20 June.
The daily charter flight VZ8700 departs from Bangkok Suvarnabhumi airport at 1030 and arrives in Yangon at 1135. The return flight VZ8701 departs Yangon at 1220 and arrives at Bangkok Suvarnabhumi Airport at 1410.
Myanmar National Airlines announced the temporary arrangement on 1 June on its website, saying it involved the airline's scheduled service from Yangon – Bangkok (UB-019) and Bangkok – Yangon (UB-020), which would be substituted with Thai Vietjet flights VZ-8701 and VZ-8700 respectively from 1 to 20 June. The average flight time from Bangkok to Yangon is 58 minutes for a flight distance of just 611 km using an Airbus A320.
Myanmar National Airlines made its maiden flight in 1948 as UBA – Union of Burma Airways. It was one of the oldest airlines in Asia. In 2014 it rebranded Myanmar National Airlines, first flying domestic services and later opening international flights to capital cities in Southeast Asia to compete with Myanmar Airways International.