BANGKOK, 7 June 2023: The ANA Group joins the "Pokémon Air Adventure" programme in collaboration with The Pokémon Company to celebrate the inaugural flight (4 June) of the new "Pikachu Jet NH" direct from Tokyo to Bangkok.
An ANA aircraft has been specially transformed into the all-new Pikachu Jet, complete with a spectacular Pokémon livery on the exterior and Pikachu-themed designs through the interior, including themed cabin crew aprons and other in-flight amenities.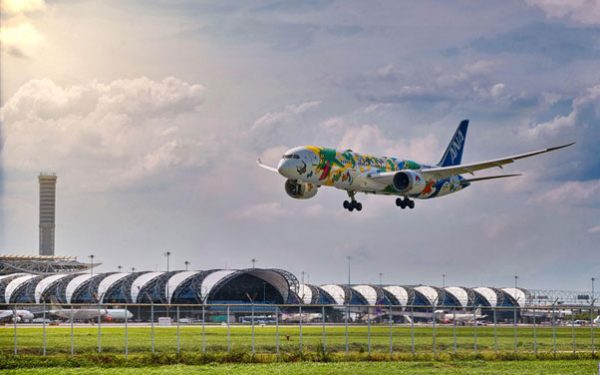 All Nippon Airways Thailand general manager Seido Terasawa said in a press statement on the partnership between ANA and The Pokémon Company: "We are both proud and honoured to announce the debut flight of the 'Pikachu Jet NH', from Tokyo (Haneda) to Bangkok 4 June. This partnership underscores ANA's continued commitment to the Thai market as we seek to offer Thai passengers a unique experience of the highest quality."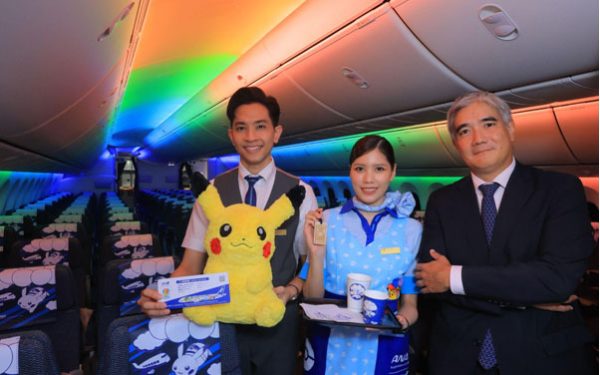 The Pikachu Jet NH aircraft features an exclusive livery specially designed for ANA, in which the Legendary Sky High Pokémon Rayquaza appears on the entire fuselage to create an impressively striking visual.
Passengers flying on the Pikachu Jet NH will receive commemorative gifts such as Pikachu-adorned Kifuda (Japanese wooden tags), Pokémon stickers, and special Pokémon-themed boarding certificates. To tie the entire journey together, ANA will welcome passengers aboard with special boarding music that will bring the world of Pokémon to life.
The Pikachu Jet NH (Boeing 787-9) is now in service, designated ANA Flight 847 (Haneda to Bangkok) and ANA Flight 850 (Bangkok to Haneda). It will continue to operate services until 28 October 2023.
The routes will cover various destinations worldwide as follows (*subject to change due to changes in operations):
● Haneda – Bangkok (NH847/NH850/NH849/NH848)
● Haneda – Singapore (NH841/NH844/NH843/NH842)
● Haneda – Jakarta (NH855/NH856)
● Haneda – Manila (NH869/NH870)
● Haneda – Ho Chi Minh City (NH891/NH892)
● Haneda – Delhi (NH837/NH838)
● Haneda – Sydney (NH879/NH880/NH889/NH890)
● Haneda – Vancouver (NH116/NH115)
● Haneda – Honolulu (NH186/NH185)
"With triple-daily flights from Bangkok to Tokyo, ANA aims to expand its network to meet the demand for travel to and from Japan," ANA's Thailand GM concluded.