DUBAI 9 June 2023 – Emirates' flagship A380 achieved a milestone last week when it touched down at Bali's I Gusti Ngurah Rai International Airport to become the first-ever scheduled A380 service to Indonesia.
The world's largest passenger aircraft was showered with a water cannon salute as it taxied smoothly to the terminal amidst passengers' and spectators' cheers and excitement.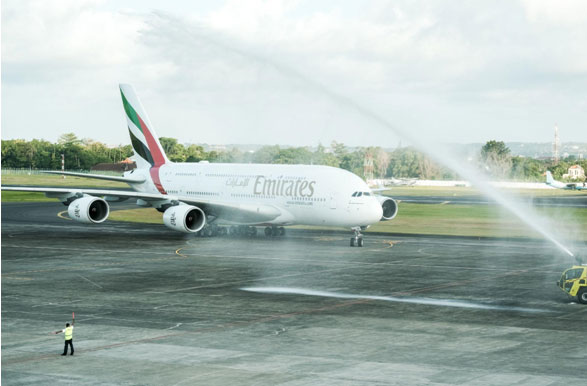 Emirates Country Manager for Indonesia, Mohammad Al Attar said: "The deployment of our iconic A380 aircraft on flights to Denpasar will significantly contribute to serving the increased customer demand. We're pleased to achieve this milestone that will greatly strengthen our operations in Indonesia and future commercial plans for the market."
Emirates' A380 serving Bali is configured with a two-class cabin offering 58 lie-flat seats in business class and 557 in economy class.
Emirates launched a direct daily service from Dubai to Bali in 2015, adding to its scheduled flights to Jakarta which began in 1992. The airline currently serves Indonesia with 28 weekly flights to Bali and Jakarta. It offers increased connectivity to 29 more domestic cities via the two gateways through its partnership agreements with Garuda Indonesia and Batik Air.
In addition to introducing its flagship A380, Emirates continues to show its long-standing commitment to Indonesia's travel and tourism sector through other initiatives.
In early May, Emirates signed a Memorandum of Understanding (MoU) with Indonesia's Ministry of Tourism and Creative Economy at the Arabian Travel Market in Dubai to continue promoting Indonesia as a preferred travel destination through joint marketing campaigns and programmes.
Passengers from Indonesia can look forward to enjoying the A380's spacious and comfortable cabins, signature products that offer travellers the best experiences in the sky, like the Onboard Lounge and an award-winning inflight entertainment system that includes more than 6,500 channels of on-demand entertainment.
The Emirates A380 is currently deployed to 46 destinations, including Dubai, and is likely to expand to nearly 50 destinations by the end of the summer.
Visit this page to learn more about the Emirates A380 Experience.
Tickets can be purchased at www.emirates.com.