SINGAPORE, 22 May 2023: London has been named the best city brand in the world, followed by New York and Paris, by the inaugural Brand Finance City Index released at the Weekend.
Presented by brand evaluation consultancy Brand Finance, the ranking is based on a global survey conducted in April 2023 in 20 countries on all continents to measure perceptions of the world's top 100 cities.
With a score of 84.6 out of 100, driven by its high familiarity among respondents worldwide, London has recorded stronger brand perceptions than any other city in the study.
Brand Finance chairman and CEO David Haigh commented: "London's exceptional performance in the Index can be attributed to its global familiarity. Coming first on this particular measure, London has a huge advantage over its peers, leading to its success in ranking overall as the world's best city. Knowing a city allows the public to form positive perceptions about it – to recognise its reputation and consider it the preferred place to live, work, study, retire, visit, or invest. High familiarity means a deeper understanding of its qualities and a broader reach of its appeal, allowing the city to draw significant economic benefits from inbound migration, investment, and tourism."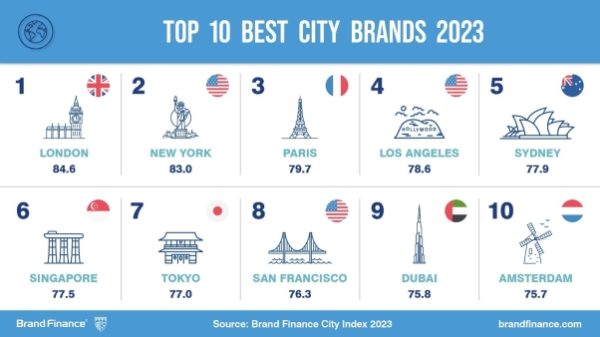 New York City secured the second spot, behind London, with a Brand Finance City Index score of 83.0 out of 100.
Paris rounds off the podium, ranking third with a Brand Finance City Index score of 79.7 out of 100.
Dubai proves its reputation as the top city brand in the Middle East & Africa, and ninth; overall, Dubai comfortably makes the top 10 of the world's best-perceived cities, with a Brand Finance City Index score of 75.8/100.
More cities from outside Europe and North America performed well in the Brand Finance City Ranking too. Sydney, Australia, ranked fifth overall, Singapore sixth and Tokyo seventh.
Singapore boasts the strongest perceptions globally as great for startups and innovations and clean and sustainable. It is also second for easy business and third for both a strong and stable economy and future growth potential.