SINGAPORE, 15 May 2023: Solo travellers are urged to take the necessary safety steps to ensure their trip of a lifetime runs smoothly without risk.
Travel experts at Panache Cruises advise lone holidaymakers how to avoid putting themselves at risk when jetting off on their own.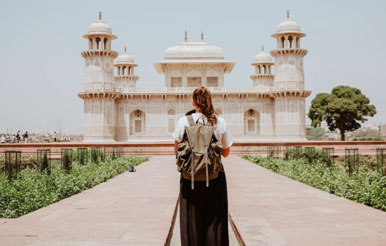 Bookings for solo travel have almost doubled since the pandemic – 14% of travellers planned a solo trip in 2019, but now 23% plan on venturing alone.
But despite this surge in individuals wanting to experience the world on their own, several barriers are still in place, putting some travellers off.
Personal safety remains top of the list of obstacles why solo travellers, particularly females, feel they can't take a holiday alone.
To protect their safety, one of the most important things to do if travelling alone is to share live locations with others and update friends and family on itineraries.
There are a wealth of mobile phone apps which are designed to keep you safe by sharing your location in real-time with friends and loved ones.
Solo travellers should also take time to create an emergency plan, knowing where the local hospital and police stations are and remembering the emergency phone numbers for each country.
Panache Cruises founder Janes Cole said: "A solo trip often becomes the trip of a lifetime. It's liberating to take in all the different languages and landscapes in your own time without having to worry about anyone else.
"It's all about stepping outside of your comfort zone and getting the opportunity to meet new people worldwide. You can quickly immerse yourself in unique cultures and go wherever you want.
"The lessons and knowledge you gain from exploring new countries alone can lead to once-in-a-lifetime experiences and a path of self-discovery.
"But travelling to an unknown place alone can also be unsettling if you don't put safety measures in place. That's why the most important thing when going on holiday alone is to protect your safety first and foremost.
"Protect yourself against tourist crime by researching the local scams in each area and keep your valuables close by and out of sight.
"Never tell a stranger you are travelling alone, as this can put you in a vulnerable position. Before leaving, make sure you have all the correct travel insurance documents to hand in case of an emergency.
"The experiences and memories from a solo trip are truly priceless, but it's crucial not to forget your safety always comes first."
Top 10 Safety Tips for Solo Travellers:
Inform people of your location
Before going away, make sure to let friends and family know of the trip and make sure to keep them updated with any changes to the itinerary. Keep in regular contact and turn on live location so someone at home knows where contact details of where you are staying.
Create an emergency plan
Be prepared for emergencies by knowing where the local hospital, police station and other useful spots are in each city. Learn key phrases such as 'I need help' or 'Ring for an ambulance' in the local language and the emergency phone numbers.
Protect valuables
It's a good idea not to pack anything sentimental and only take what is necessary – like a credit card, local currency, passport and a mobile phone. Keep these hidden in a secure bag out of sight at all times.
Protect yourself against crime
Solo travellers should stay safe from local crime and tourist scams by researching the destination beforehand. Read up on travel guides, blogs, and news sites. Talk to others who have visited the area to learn about potential risks.
Book solo accommodation
Booking shared accommodation such as hostels poses more risks than booking a solo room. Many travel providers now include smaller rooms or cabins for those holidaying alone.
Choose accommodation with caution
Check that the hotel or hostel is safe and close to public transport and restaurants. Travellers should also check the accommodation's check-in timings to avoid waiting in an unknown environment.
Travel Insurance
Travellers are advised to protect themselves from unforeseen events by getting travel insurance. Trip cancellation and interruption insurance can help recover damages from weather and natural disasters. Medical insurance can cover unexpected costs, while luggage insurance can help recover losses from theft or delays.
Study the local language
Tourists are encouraged to learn the local language to enrich their travel experience and keep themselves safe, especially when visiting less popular tourist destinations. Use translation apps.
Be respectful of local culture
To reduce vulnerability and avoid drawing attention, travellers should dress appropriately to respect the local culture. Some countries may require hair to be covered up and not too much skin to be on show.
Never tell strangers you are travelling alone
Finally, solo travellers should never share too much with strangers or risk becoming a target. Instead of telling someone they are solo travelling, let them know that friends are just waiting up ahead or back in the hotel room.
For more tips on how to make the most out of your solo trip, please visit https://www.panachecruises.com/
(Source: Panache Cruises)