SINGAPORE, 24 May 2023: Emirates announced Monday an exciting new offer for travellers planning to visit Dubai this summer.
Up until 11 June 2023, travellers who purchase an Emirates return ticket in First Class or Business Class to or stopping over in Dubai will be able to enjoy a complimentary two-night stay at 25hours Hotel Dubai One Central. Those travelling in Premium Economy Class or Economy Class can enjoy a complimentary one-night stay at Novotel World Trade Centre, Dubai.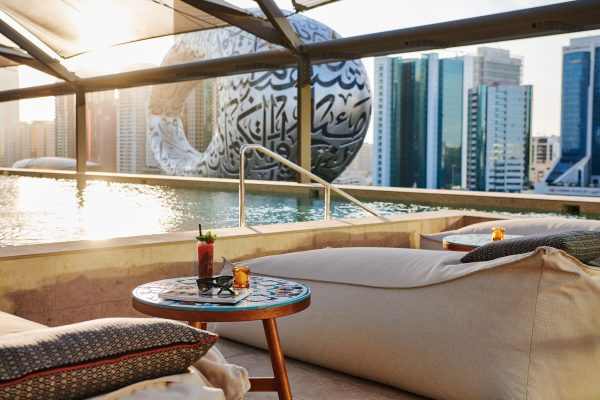 This special offer is valid for all return tickets to or stopping over in Dubai for more than 24 hours for travel dates between 26 May 2023 and 31 August 2023. The offer is available on bookings made on emirates.com or Emirates call centre or ticket officesor via participating travel agents, made at least 96 hours in advance of passengers' arrival.
Located right next to Dubai's iconic Museum of the Future, the 5-star 25hours Hotel Dubai One Central draws inspiration from traditional Bedouin culture and design but with a modern twist. Travellers can lose themselves in a culinary experience, ranging from North Indian Cuisines to Bavarian beer, across five amazing in-house restaurants and bars at the hotel. Travellers can also relax and unwind at the Extra Hour Spa, a unique rooftop sauna that overlooks the stunning city of Dubai.
Situated within the Dubai International Convention and Exhibition Centre (DWTC), Novotel World Trade Centre, Dubai, promises a luxurious yet homely experience right in the heart of Dubai. Travellers can relax by the pool and enjoy signature cocktails and light meals at Chills Pool Bar and cap off their adventure with a live music performance at the soul-soothing Blue Bar. Novotel World Trade Centre, Dubai, is a stay of choice for solo travellers and families alike.
Explore more of Dubai with Emirates
Whether it is frolicking in private pools or enjoying family fun at indoor theme parks and water parks, there is something for every traveller visiting Dubai this summer. From sun-soaked beaches and cultural activities to world-class hospitality and leisure facilities, Dubai offers a variety of world-class experiences for every visitor:
My Emirates Pass: Customers flying to or through Dubai can simply show their boarding pass and a valid form of identification to hundreds of retail, leisure, and dining outlets, as well as famous attractions and luxury spas, to enjoy fantastic discounts throughout Dubai and the UAE. To see all My Emirates Pass offers, please visit www.emirates.com/myemiratespass.
Skywards Partners: Members of Emirates' award-winning loyalty program, Skywards, can earn Miles with our worldwide partners like hotels, airlines, car rentals, retail and banking. Members can spend these Miles on reward tickets, upgrades, or even tickets for concerts and sports events. Learn more about Emirates Skywards here: https://www.emirates.com/english/skywards/
Emirates has safely restarted operations to more than 130 destinations across six continents and currently operates 21 flights per week from Singapore to Dubai.
For more information, visit emirates.com.Tickets can be purchased on emirates.com, Emirates Sales Office, via travel agents or through online travel agents.