KERTAJATI, Indonesia, 18 May 2023: AirAsia Malaysia celebrated Wednesday its maiden flight from Kuala Lumpur to Kertajati in West Java, Indonesia.
The inaugural flight departed from Kuala Lumpur International Airport (Terminal 2) at 0905 and landed at Kertajati International Airport on the same day at 1020 local time.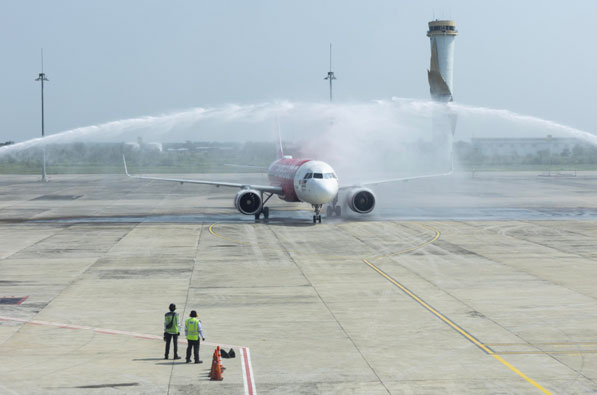 Passengers onboard flight AK418 were greeted on arrival by Bapak Drs Benny Bachtiar M SI, head of tourism and culture, West Java; Dato Syed Md Hasrin, Ambassador of Malaysia to Indonesia and AirAsia Malaysia CEO, Riad Asmat.
The new route marks AirAsia as the first low-cost carrier to fly internationally to and from Kertajati post-pandemic. Kertajati International Airport is Indonesia's second-largest airport. It is a main hub connecting travellers to Greater Bandung, Cirebon and its surrounding areas, West Java province and parts of Central Java.
AirAsia Malaysia CEO Riad Asmat said: "We are truly honoured to be the first low-cost airline to connect travellers to Kertajati, an unexplored gem of Indonesia. AirAsia first commenced flights from Malaysia to Indonesia in 2004… We have since flown more than 2.5 million guests between the two nations in 2019 and expanded our network to 12 destinations in Indonesia with 151 flights weekly.
"Our mission is to again place West Java on the map and Indonesia as a must-visit destination in ASEAN. With this new route, more locals and tourists will get to sightsee the quaint town of Kertajati and its neighbouring areas and attractions."
AirAsia is offering all-in fares from Kuala Lumpur to Kertajati from MYR141 one way. Value-added fares are also available for the return flights from IDR616,600 all-in-one way. The promotion runs from now until 21 May for travel between 1 June and 14 December 2023.