HONG KONG, 5 April 2023: HK Express introduces a new daily direct service from its home base Hong Kong to Hanoi, giving the airline three routes to holiday destinations in Vietnam effective 28 April.
The airline offers a one-way fare of HKD128 from Hong Kong to all Vietnam destinations, Hanoi, Danang and Nha Trang, excluding tax and fees. The travel period is 28 April to 28 October, but the discounted fare must be purchased by 6 April.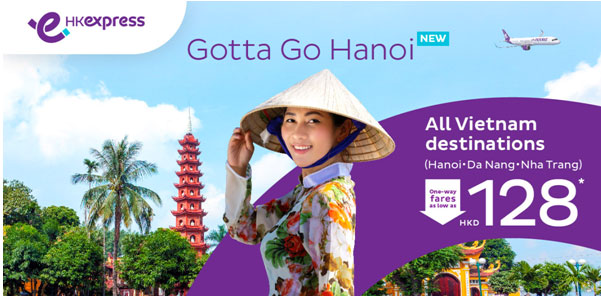 Travellers can book a one-way fare to Hanoi and the return fare from either Nha Trang (Cam Ranh International Airport) or Danang to Hong Kong. It allows travellers to travel on what airlines call an "open jaw trip" – in at one destination and out at another with an overland journey between the two destinations.
The Hong Kong-Hanoi daily service starts on 28 April, with flights departing Hong Kong at 0745 and arriving in Hanoi at 0840. The return flight departs Hanoi at 0925 and arrives in Hong Kong at 1225.
Hong Kong Express serves Nha Trang, a beach town in southern Vietnam, with four weekly flights departing on Sunday, Monday, Wednesday and Thursday, effective 5 June. The flight departs Hong Kong at 1530 and arrives at Cam Ranh Airport at 1645. The return flight departs Cam Ranh at 1735 and arrives in Hong Kong at 2100.
The airline serves the Hong Kong-Danng route with four flights on Sunday, Tuesday, Thursday and Saturday. The outbound flight departs Hong Kong at 1625 and arrives in Danang at 1720. The return flight departs Danang at 1810 and arrives in Hong Kong at 2110.