SINGAPORE, 21 March 2023: Singapore Changi Airport has been named World's Best Airport 2023 at the World Airport Awards that were held at Passenger Terminal EXPO in Amsterdam, Netherlands, last week.
Singapore Changi Airport also received the 2023 awards for the World's Best Airport Dining, the Best Airport for Leisure Amenities and the Best Airport in Asia.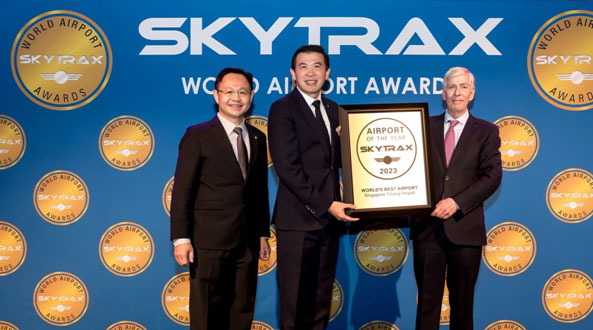 Changi Airport Group chief executive officer Lee Seow Hiang said: "Changi Airport is honoured to be named World's Best Airport for the 12th time. This recognition is a great encouragement to our airport community, who stood firmly together to battle the challenges of Covid-19 over the past two years."
Commenting on the awards, Skytrax's Edward Plaisted noted: "After being severely hit during the Covid-19 pandemic, it is pleasing to note that passenger numbers at Changi Airport are now at about 80% of pre-Covid-19 levels, and expected to return to pre-pandemic levels by 2024. This recognition for Changi Airport is from the airport customers and underlines the airport's popularity with international air travellers".
Operating since 2000, the World Airport Awards are independent and provide a global customer satisfaction study that assesses customer service and facilities across over 550 airports.
The awards are based on the World Airport Survey questionnaires completed by over 60 nationalities of airport customers during the survey period, which operated from August 2022 to February 2023.