BERLIN, 10 March 2023: Malaysia's Ministry of Tourism, Arts and Culture (MOTAC) and its agency Tourism Malaysia participated once again in the World's leading travel trade show, Internationale Tourismus-Borse (ITB) Berlin, hosted 7 to 9 March 2023.
The three-day event held at Berlin ExpoCentre City (Messe Berlin) attracted tour content providers and tour operators from 125 countries. This year marked the 50th participation of Tourism Malaysia since it first joined the B2B travel show in 1972.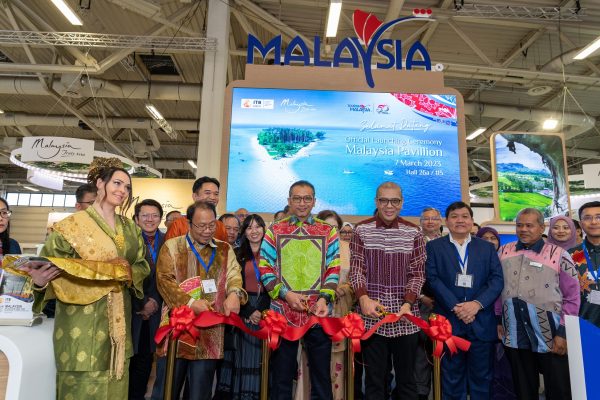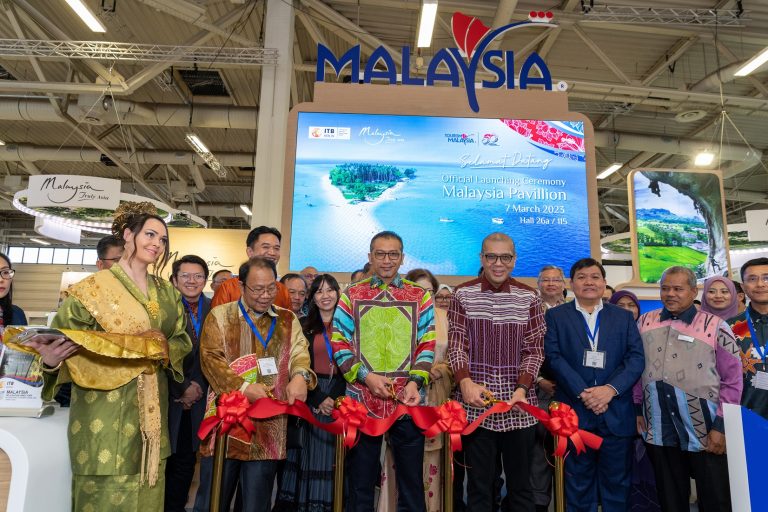 This year's Malaysia delegation to ITB Berlin comprised seven state tourism boards, 15 tour operators, 15 hotels and resorts, and three tourism-related services. Sixty-eight participants representing 40 organisations joined the Tourism Malaysia Pavillion.
The Malaysia delegation was led by Datuk Mohd Zamri Mat Zain, Deputy Secretary General (Tourism), MOTAC who was accompanied by Dato' Zainuddin Abd Wahab, Director General of Tourism Malaysia, and Dato' Dr. Ammar Abd Ghapar, Senior Director of Tourism Malaysia's International Promotion Division (Americas/Europe/Oceania).
Datuk Mohd Zamri Mat Zain commented: "ITB continues to be one of the best platforms for Malaysian tourism players to meet up with German and European outbound agents and airlines, where we get to share the latest information on Malaysia's tourism products and new tourist attractions in our effort to revive the tourism industry further."
He also emphasised Malaysia's unique ecotourism destinations and community-based tourism to be highly interesting to the European market.
In conjunction with ITB Berlin 2023, Tourism Malaysia introduced a new video part of its latest campaign, "Soul of Malaysia." It was launched together with its new release of three main brochures, namely Malaysia Travel Guide, Nature & Adventure, and Island & Beaches in the German language. Three state tourism boards attending ITB Berlin also launched their new products and campaign, namely Gombak Hulu Langat Geopark by Tourism Selangor, Langkawi Green Geopark Package by Langkawi Development Authority (LADA), Sabah.
Tourism Board ́s new destination branding, Feel Sabah, North Borneo and Visit Melaka Year 2024 introduced by Melaka Tourism.
Since its full reopening of international borders, Malaysia has recorded 10.07 million tourist arrivals and earned MYR28.2 billion (EUR6.1 billion) in tourist receipts in 2022, surpassing its initial target of 9.2 million international tourist arrivals. In 2023, Malaysia is targeting 16.1 million international tourist arrivals and earnings of MYR49.2 billion (EUR10.5 billion) in tourist receipts.
Particularly in December 2022, Malaysia recorded 10,764 German tourist arrivals, which translates to a significant growth of 31.3% compared to 8,197 arrivals in December 2019.
Malaysia welcomed 57,780 German tourist arrivals in 2022, compared to 130,221 arrivals in 2019. With enhanced air connectivity and promotional efforts in 2023, Tourism Malaysia looks forward to achieving exponential growth in the German outbound travel market.