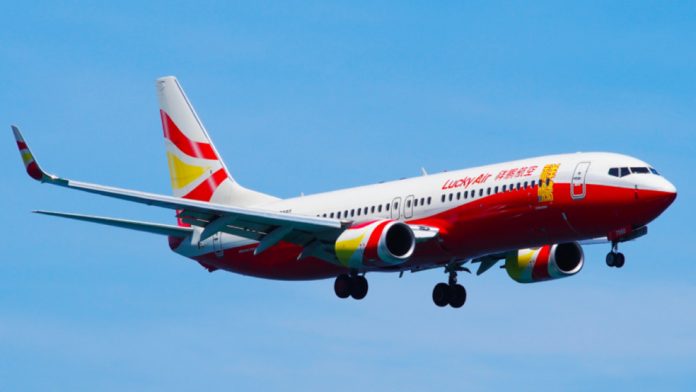 KUNMING China, 23 February 2023: Lucky Air, a low-cost airline based in Kunming, Yunnan province China, will resume flights to Vientiane and Luang Prabang in Laos in mid-March 2023 using a Boeing 737-800 aircraft. The airline will also introduce daily flights to Chiang Mai in northern Thailand starting 24 March.
Flights to Laos will be scheduled to Vientiane on Monday and Friday and to Luang Prabang on Wednesday and Sunday.
First reported by kucinta-air.blogspot.com the airline confirms it will start flying to Vientiane, the Lao capital, on 13 March, followed by flights to Luang Prabang, a World Heritage town in northern Laos, on 19 March.
There is not even a hint of the flight schedules on the airline's website concerning the two routes to Laos or Chiang Mai in Thailand, but that is typical of low-cost airlines that rarely update Facebook or website pages in a timely fashion.
However, Laotian Times and AeroLaos, a specialised aviation website, quote a Lucky Air schedule that says flight 8L861 will depart at 0800 on 13 March from Kunming, arriving in Vientiane at 0840. The return flight (8L862) will depart Vientiane at 0940 and arrive in Kunming at 1211.
Lucky Air flight 8L863 will depart Kunming for Luang Prabang at 0800 on 19 March and arrives in Luang Prabang at 0830. Flight 8L684 will depart Luang Prabang for Kunming at 0930 and arrive in Kunming at 1155.
Lucky Air also flies to Bangkok's Suvarnabhumi airport offering daily flights. Flight 8L801 to Bangkok's Suvarnabhumi airport takes off at 1535 and arrives in Suvarnabhumi at 1705. It departs for Kunming at 1800 and lands in Kunming at 2115.
The airline intends to launch a daily service to Chiang Mai on 24 March. Flight (8L809) to Chiang Mai will depart Kunming at 1225 and arrive in Chiang Mai at 1310. The return flight 8L810 will depart at 1410 and arrive in Kunming at 1645.
(Source: Kucinta-air blogspot and Laotian Times)
Links: https://kucinta-air.blogspot.com/…/lucky-air-resumes…
#AeroLaos #luckyair #Vientiane #Luangprabang #flighttolaos #b787