MANILA, 9 February 2023: AirAsia Philippines is returning to key economic hubs in China, starting with weekly flights to Guangzhou, Shenzhen, and the special administrative region of Macao during February and March
Business travellers can reconnect with Guangzhou beginning 15 February with AirAsia's three weekly flights every Monday, Wednesday, and Saturday.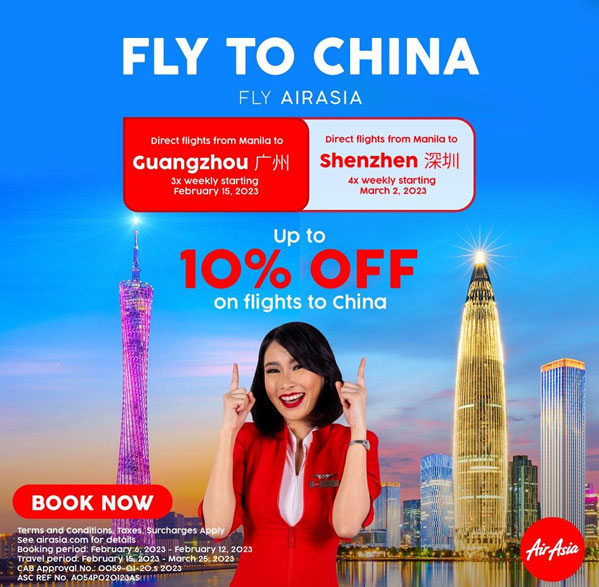 Essential travellers can fly to the special economic zone of Shenzhen four times weekly every Tuesday, Thursday, Friday, and Sunday beginning 2 March. Guests flying to these key destinations in China can enjoy a 10% discount for bookings made by 12 February for travels until 25 March 2023.
Flights will resume to Macau on 2 March with three weekly flights every Tuesday, Thursday, and Saturday.
AirAsia Philippines Chief Executive Officer Ricky Isla commented: "The final piece of the puzzle that will complete the recovery process of the aviation industry is here. Now that China is opening its borders to the world, a new era of tourism, trade and commerce is set to emerge. And as always, AirAsia will ensure our guests the best value deals as we safely take them to the skies of renewed opportunities. Pre-pandemic, we flew over 750,000 guests to and from China."
Until midnight on 12 February, AirAsia is offering a Buy 1, Take 1 promo from as low as PhP158 for domestic and PhP828 for international travel until 30 September 2023.