BANGKOK, 20 January 2023: Thailand Tourism Forum (TTF 2023) returned to Bangkok earlier this week for its 12th annual edition to debate the issues and inspire future concepts.
Running under the theme "Innovation in Hospitality", the creative half-day event featured top-level speakers and discussions on key issues set to influence the industry in the months and years to come.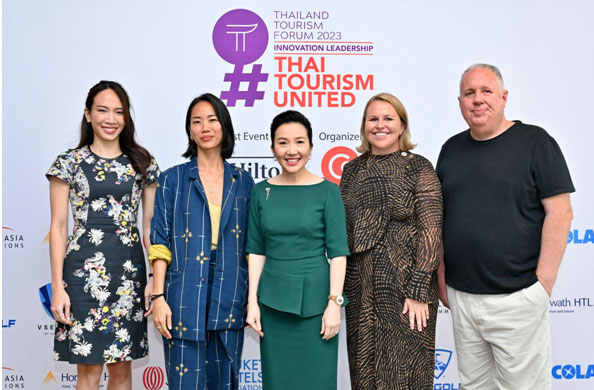 An 800-strong crowd of travel and hospitality professionals took part and heard how Thailand's tourism machine needs to reinvent itself and become a pioneering force in branding, design and technology to emerge stronger and more sustainable in the post-pandemic era.
The event organiser C9 Hotelworks managing director Bill Barnett led a session on "Why Thailand Must Innovate." The forum's keynote speaker Wallapa Traisorat, CEO & President of Asset World Corporation, a Thai hotel owner and developer, tackled the topic of "Creating a New Hospitality Landscape with Brands".
Other important issues on the agenda included "Disruption and Change in Hotel Technology & Distribution" with Liz Perkins, Hilton's Vice President of Revenue Management & Commercial Services for Asia Pacific and "Rethinking Thai Design Culture" with Ho Ren Yung, Banyan Tree's Senior Vice President of Brand & Commercial, and Proudputh Liptapanlop, Executive Director of Proud Real Estate addressed the challenges facing hotel owners in Thailand.
C9's Bill Barnett highlighted the job market challenges in Thailand's hotel industry. Workers who were left without a job during the pandemic are now hesitant to return to the industry. Over 1.45 million tourism jobs were lost.
"Where's our pipeline of people? This is what will create success for the next generation. Thais no longer want to work in hotels, so our mission must be to innovate products and bring the best and brightest people back to the industry. We have to pay higher wages. Now is the time for Thailand's hotels to change," Barnett concluded.