SINGAPORE, 9 January 2023: Thailand is the only Asian destination to feature in the 2023 Annual Global Retirement Index's top 10.
It crept into the top chart sharing the 9th position with Italy, while Portugal was the star performer taking the first place.
Now in its 30th year, Living International claims its retirement index is the most in-depth survey of its kind based on seven categories – housing, cost of living, visa/benefits, affinity rating, governance, climate and healthcare.
Portugal topped the score line with an average of 87.43, and Columbia, in 10th place, averaged 73.57.
Mexico, in second place, averaged 84.14, followed by Panama in third place with a score of 84.00. Ecuador ranked fourth with 85.57, and Costa Rica fifth with 79.14.
Three European destinations – Spain, Greece and France – took the sixth, seven and eighth slots. Thailand and Italy shared the ninth slot, and Columbia took the 10th place.
In its favour, Thailand topped the cost-of-living category with a score of 96, while France was the most expensive (56), but it shed points in four categories; housing (62), visas (58), climate (58) and health care (76) to a smaller degree.
Living International estimated a couple could enjoy retirement in Thailand on a budget of USD2,500. At the top end of the chart, retirees could live in Portugal on a budget between USD2,000 and USD3,000.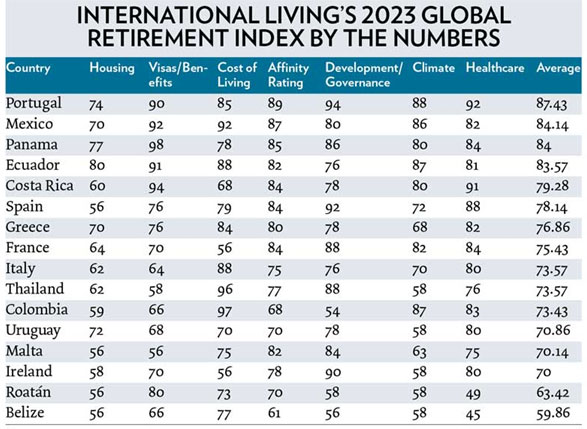 Survey chart: Living International