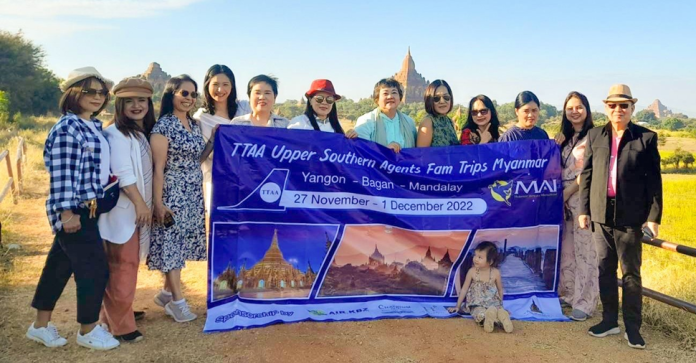 YANGON, 13 December 2023: Myanmar Airways International is promoting familiarisation (FAM) trips targeting overseas travel agents and so-called social influencers.
The airline hopes to convince overseas tour operators and media (social influencers) to return to Myanmar to check out the "country's culture, people, arts and travel sights".
It's a hard sell, considering the military overthrew the democratically elected government on 1 February 2021 and imprisoned thousands of its citizens without trial. Since the military coup, the country has descended into chaos, and its tourism industry faces ruin.
In response last month, MAI organised familiarisation trips for travel agents based in Vietnam and Thailand in collaboration with the Myanmar Tourism Federation (MTF) and Myanmar Tourism Marketing (MTM). In addition to visiting Yangon, the agents checked out the travel scene in Bagan and Mandalay.
"Visiting Bagan was an eye-opening and wonderful experience," said Tran Viet Phuong, described as an "opinion leader from Vietnam".
Myanmar Airways International's chief commercial officer Tanes Kumar commented on renewed promotions: "These activities are part of our initiatives to promote the tourism growth of Myanmar. Hence, we will continue to work with progressive partners in Myanmar's travel & tourism sector to push our direct flights and position Myanmar as a key regional destination."
Last week the country relaxed Covid-19 RDT testing measures for travellers to Myanmar arriving on international commercial flights. Travellers need only show the vaccination record card to confirm they are fully vaccinated to enter the country.
"Recent years have been challenging for Myanmar's tourism industry, but there is still great hope and positivity, and these FAM trips will showcase a diverse collection of authentic experiences in Myanmar to travel agents encouraging them to develop attractive packages for the Myanmar market," said Myanmar Tourism Marketing chairman Myo Thwin.
Despite the positive spin, most countries have issued travel advisories that clearly warn citizens not to travel to Myanmar, which makes obtaining adequate travel insurance coverage difficult for those who intend to visit the country.
Travel agents may enjoy a free, fully hosted trip to the country, but they still need to convince their clients to book a Myanmar trip. The chances of reviving tourism will remain slim unless the military junta returns to its barracks, reinstates the democratically elected government and frees protestors imprisoned without trial ( many of whom worked in tourism).
About Myanmar Tourism Marketing
Myanmar Tourism Marketing (MTM) is a privately funded, not-for-profit organisation that aims to promote Myanmar as a sustainable tourism destination.