SYDNEY, 20 November 2023: Over 100 delegates visited Ho Chi Minh City, Vietnam, to attend the recent CT Partners' Annual Business Meeting.
Traditionally held each year at the Mandarin Oriental Hotel in Bangkok, CT Partners relocated the event to Ho Chi Minh City, Vietnam and introduced a revised meeting format that attracted a record number of CT Partners' members and 33 preferred supplier partners. The event was also attended by Australian Travel Industry Association (ATIA) CEO Dean Long.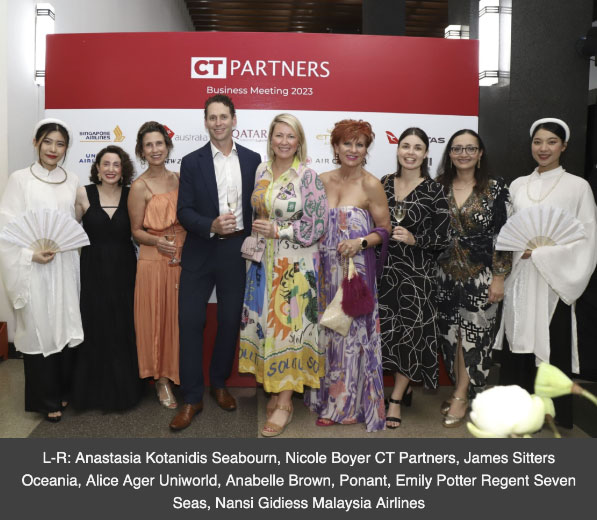 The theme of Transform was tackled during panel discussions, member breakout sessions and partner and keynote presentations, touching on a wide range of topics, including distribution changes, AI adoption, generational booking patterns and talent outsourcing.
A new speed dating format was introduced on the second day to allow one-on-one member and supplier meetings, allowing for an improved level of dialogue and engagement between businesses and resulting in a palpable buzz in the Park Hyatt Saigon.
Other highlights included the presentation of the Ian Edwards Award for the most supportive business supplier partner awarded to Singapore Airlines national agency sales manager Rosanna Piaggio.
Regarding post-event feedback, a senior airline executive commented: "The CT Partners annual business meeting is always a worthwhile investment of our time and resources. The number of members who attend and actively engage on a business and personal level makes it an industry standout… in fact, the industry standout! We feel like part of the CT Partners team, and that makes our partnership even more special and rewarding as it is true teamwork and results in the best business outcomes for all."
CT Partners CEO Matt Masson noted: "We were excited to be able to host this meeting in Ho Chi Minh City and a special mention to Singapore Airlines, our major sponsor. We continue to cement our reputation as a trusted and respected partner of choice for our members and those valued industry partners we choose to work with."
About CT Partners
CT Partners was founded in 2004 by a small group of Australian-owned travel companies who aspired to create a partnership designed to serve their travellers' needs and ensure the best possible commercial outcomes for their businesses.
Today, CT Partners' membership has reached 30, with a combined turnover of more than AUD2 billion and expanding. The collective size enables CT Partners to negotiate mutually beneficial commercial agreements with air, hotel, cruise, land and technology supplier partners.